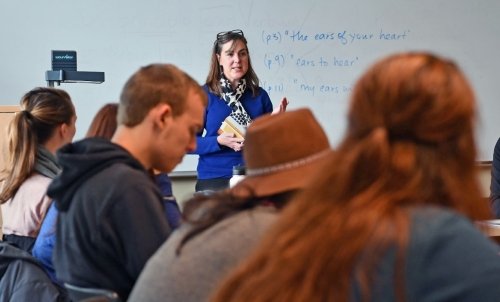 Undergraduate
Literary Studies
In this program, we examine literature as a living process intimately connected with the complex problems of its place, culture, community and history through courses in writing, rhetoric and literary theory.
Why Saint Martin's University?
The literary studies curriculum introduces our majors and minors to a substantial body of knowledge in British, American and Anglophone literature, as well as literary works in translation from across the globe and throughout history. Literary studies majors are encouraged to become familiar with a broad array of literary traditions and critical methodologies before specializing in a capstone project—a research-intensive, interpretive thesis undertaken in the senior year. 
Career paths
A major in literary studies is excellent preparation for:
Jobs that require skills in communication, research, analysis and public relations
Continued professional studies at the graduate level (e.g., business, law, medicine, public administration)
Specialized employment in education, journalism, publishing, creative arts
For a complete list of professional applications, visit "What Can I Do With This Major?" For additional information about how Saint Martin's can help you find the career for you, visit our Center for Career and Calling. 
Literary Studies Requirements
University core requirements (40-46 credit hours)  (Visit the undergraduate academic catalog for a complete breakdown of core requirements for bachelor's degrees.)
40 credit hours of literary studies courses
Students must take at least one course that focuses on literature written before 1800
Phase I: Introduction to literary studies
Choose one:
ENG 210: Literary studies
ENG 220: Literary foundations
Phase II: Literary histories
Choose two:
ENG 251: British literature I
ENG 252: British literature II
ENG 261: American literature
Phase III: Literature and writing electives
ENG 335: Comparative literature  -OR-  ENG 340: Literature in the medieval world
ENG 345: Literature, race, and ethnicity  -OR-  ENG 350: Gender and sexuality in literature
ENG 382: Literary theory and criticism
Choose 12 additional credits of electives from ENG 302 to ENG 395
Phase IV: Capstone
Phase I: Introduction to literary studies
Choose one:
ENG 210: Literary studies
ENG 220: Literary foundations
 Phase II: Literary histories
Choose two:
ENG 251: British literature I
ENG 252: British literature II
ENG 261: American literature
 Phase III: Literature and writing electives
Choose 12 additional credits of electives from ENG 302 to ENG 395
Literary Studies

at a Glance
Degree

Bachelor of Arts
Program Type

Major
Minor
Campus

Main (Lacey)
Type of Instruction

In Person
School
Resources