Transitioning to college can be overwhelming, and staying healthy, in heart, body, mind, and spirit is important to maintaining success in your academic life. Balance is an aspect of the Benedictine way of life, and it encourages us to embrace physical health, intellectual challenge, social interaction and personal reflection. We are here to support you in your journey of health and wellness at Saint Martin's University.
Counseling and wellness center Student health center Campus recreation center Campus ministry Public safety
---
In need of emergency mental health or medical care?
Please call 911, or go directly to the nearest emergency room.
If you are on campus, Providence St. Peter Hospital is the closest location.
Additional emergency resources CWC COVID-19 crisis resources
---
Student mental health counseling
We promote the health and development of Saint Martin's University students through professional mental health services, education and training. 
---
Student health 
We strive to help you transition into a position of responsibility for your health and to provide you with the resources you need to develop and maintain healthy minds and bodies.
---
Fitness and recreation
Saint Martin's recreation programs provide a wide variety of physical education classes, student activities, intramurals, and free fitness classes.
---
Additional student support resources
---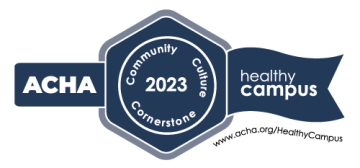 Saint Martin's Student Health Center has been designated a Healthy Campus by the American College Health Association for advancing the holistic well-being of students, faculty and staff by developing cross-campus coalitions and building capacity for achieving health and well-being goals.