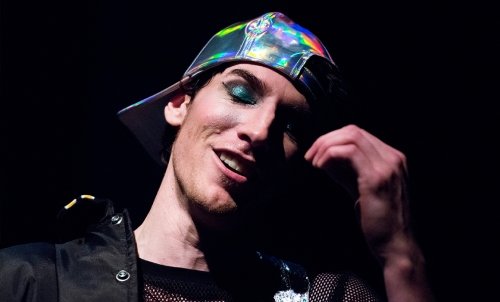 Undergraduate
Theatre Arts
The theatre arts program at Saint Martin's University is designed to incorporate the best of Saint Martin's liberal arts tradition with hands-on, professional-quality theatrical experience. The program integrates theatrical training with the study of dramatic literature and theater history as a means of developing intellectual, physical and spiritual adventurousness, openness of mind and increased understanding of the range of human experience.
Why Saint Martin's University?
Saint Martin's small size enables Theatre Arts faculty to involve students in hands-on experience with all aspects of theatre, including:
Acting
Playwriting
Directing
Stage management
Set design
Lighting Design
Costume Design
Props Design
Students wishing to specialize in a particular area receive intensive training with professional mentors.
Additional Benefits:
The opportunity to experience a hands-on approach to virtually all aspects of theatrical production enables students to truly understand the world of theatre and gain valuable skills they will able to re-purpose in other professional fields they may choose to pursue.
Research and internships
Students often intern with a number of the area's professional companies, including Harlequin Productions, Theatre Artists Olympia and Taproot Theatre.
Career paths
Many of our graduates continue to do theatre, either professionally or as an avocation, but many find success in other fields besides the arts, including:
Education
Social Services
Law
Business
Though it is notoriously difficult to make a living in the performing arts, the skills you develop in our theatre program - communication, aesthetic judgment, emotional understanding, organization ability - will serve you well, whatever your chosen field.
For a complete list of professional applications, visit "What Can I Do With Major?". For additional information about how Saint Martin's can help you find the career for you, visit our Center for Career and Calling.
Theatre Arts Requirements
CORE requirements (40-46 credit hours)
Visit the undergraduate academic catalog for a complete breakdown of CORE (general) requirements for bachelor's degrees.
Theatre arts courses (36 credit hours, at least 21 of which are upper-division)
THR 201: Fundamentals of Theatrical Design and Technology
THR 211: Acting I
THR 302: Play Writing
THR 305: Styles, Periods and Practices in Theatre
THR 311: Acting II
THR 450: Directing Practicum (must have three semester hours credit)
ENG 203: Introduction to Drama
ENG 341: Shakespeare
Plus 12 credit hours chosen from:
THR 205/350: Acting Practicum
THR 290/390: Internship
THR 320: Scene Design
THR 330: Costume Design
THR 340: Lighting Design
THR 260/360: Design/Tech Practicum
THR 250, 260, 290, 350, 360, 390 and 450 are offered on a variable-credit basis. The number of hours of credit, 1 to 4, earned will be based on the size and/or complexity of the role to be played or the production support tasks being undertaken. Proficiency in a foreign language is strongly recommended for those intending to apply for graduate studies leading to a master's and/or doctoral degree. 
Additional requirements
All students majoring in theatre arts are expected to work on each production each semester.
THR 201: Fundamentals of Theatrical Design and Technology
THR 211: Acting I
THR 250/350: Acting Practicum (must have three semester hours credit)
THR 305: Styles, Periods and Practices in Theatre  -OR-  THR 311: Acting II
ENG 203: Introduction to Drama  -OR-  ENG 341: Shakespeare
THR 302: Play Writing  -OR-  THR 450: Directing Practicum
Plus three credit hours chosen from:
THR 290/390: Internship
THR 320: Scene Design
THR 330: Costume Design
THR 340: Lighting Design
THR 260/360: Design/Tech Practicum
 
Theatre Arts

at a Glance
Degree

Bachelor of Arts
Program Type

Major
Minor
Campus

Main (Lacey)
Type of Instruction

In Person
School