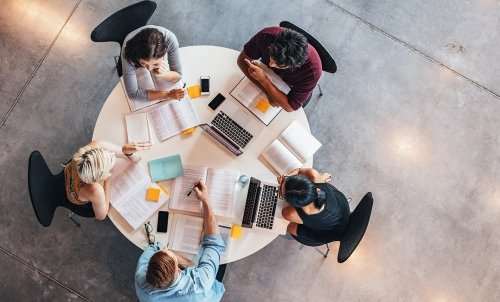 Undergraduate
Business Administration
Ready to learn how to become an effective and ethical leader in the corporate world? A business administration degree may be the best option for you.
Why Saint Martin's University?
Our Bachelor of Arts in business administration prepares students with personalized attention through small class sizes, quality internship and networking opportunities, and one-on-one mentoring with faculty members who are both educators and experienced business professionals. Additionally, our 4+1 dual degree program helps qualified students earn both a bachelor's and MBA degree in five years.
Program highlights
Small class sizes and one-on-one mentoring with faculty
4+1 dual degree program: qualified students earn bachelor's and MBA in 5 years
Faculty members are both educators and business professionals
Emphasis on real world, hands-on internships
Business-specific career and internship fairs held on campus each semester
Extracurricular activities, competitions and networking opportunities
Our Concentrations are:
Accounting
Business Analytics
Economics
Finance
International Business
Management
Marketing
Internships
Proximity to the Washington state capital allows for access to quality internship opportunities. 35-40% of students are offered a job at their internship site. Business administration majors have the opportunity to intern with a variety of local businesses and organizations including:
H&R Block
Enterprise
Local CPA firms
Business Administration Requirements
Details on courses, including university core requirements, can be found in the academic catalog. 
21-22 credit hours of foundation courses
27 credit hours of common professional component courses
Nine -18 credit hours of concentration courses
12 credit hours of foundation courses
12 credit hours of professional component courses
Business in society: Ethics and responsibility
Career management
Consumer behavior
Fundamentals of entrepreneurship
Integrated marketing communications
Project management
Business Administration

at a Glance
Degree

Bachelor of Arts
Program Type

4+1 Accelerated
Major
Minor
Campus

Main (Lacey)
Saint Martin's-JBLM
Type of Instruction

In Person
School
Resources