Committed to supporting your career goals
The Center for Career & Calling/Internship Hub offer services and resources to support your career goals as they relate to future employment and graduate school opportunities. Career planning begins during your first year and continues until you graduate. Alumni can also use our services - once a Saint always a Saint!
We are committed to addressing the implicit bias that occurs in the recruiting and hiring process across all industries and will:
Continue to sponsor professional development opportunities for our students.
Review our materials to ensure they utilize inclusive language.
Encourage enrollment in the Saints Promise Program to promote upward social mobility of our students and graduates.
Work with our employers to educate and provide resources on anti-racist, anti-discriminatory hiring practices, as well as how to address implicit bias in their workplaces.
---
Our services
Our team is here to assist you! Drop by our offices or make an appointment to get help with:
---
For Employers
Employers can post jobs in Handshake and find resources and information here.
---
Where do our grads go?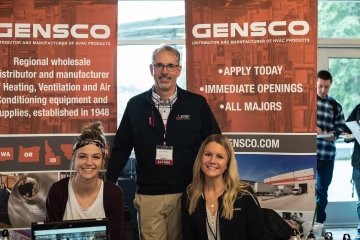 Our graduates have been accepted at graduate schools such as University of Washington, University of Hawaii, and California State University. They've been hired with companies such as the Department of Fish & Wildlife, State Auditor's Office, REI, Aflac, Pierce Transit, the Puget Sound Naval Shipyard.
Visit our virtual career services center 24/7, where you can curate the content so that every resource is relevant to you. Create a profile, explore career interests, get help with your resume, and more.