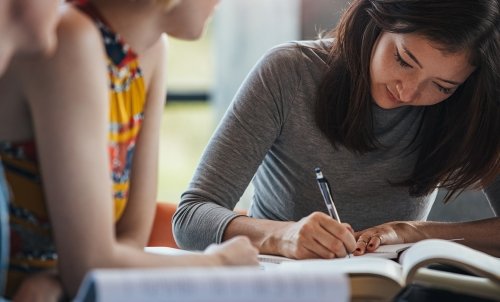 Writing at Saint Martin's is seen as critical to the quest for truth and improvement of the human condition. Whether writing poetry, policy, or a blog or business report, the ability to write clearly in a number of styles prepares students for the range of writing requirements that their spiritual lives and careers will inevitably demand.
Why Saint Martin's University?
The minor gives students a well-rounded education in creative, academic and professional and journalistic writing. At the same time, it allows students to specialize and develop an area of expertise.
As an integral part of Saint Martin's vibrant Department of English, the writing program provides students with:
Courses in the following three tracks: journalism, professional and academic writing, and creative writing
Access to and interaction with a highly engaged faculty
On-going opportunities for world travel
Participation in the yearly Washington state Les Bailey Writers Series
Professional experience through Saint Martin's student publication, The Belltower
Membership in Sigma Tau Delta, the national English honor society
Membership in the Saint Martin's University English Majors Facebook page
Opportunities for internships with local businesses, the arts and the Washington State Legislature
Opportunities for field trips and ethnographic observations of the Washington State Legislature
Creative writing retreats at the Saint Martin's Abbey's Lambert Lodge, a beautiful, restorative retreat center on Eld Inlet in the Puget Sound
Close relations with the Olympia Poetry Network's monthly poetry readings and the Olympia Song Writer's circle, both held at downtown Olympia's Traditions café
The writing minor welcomes and is applicable to all majors. Informed by the Benedictine philosophy of education, the writing minor offers students an enriching unique and practical academic experience that meets the needs of the whole person and assists students in writing eloquently for various purposes, audiences and contexts.
Research and internships
Saint Martin's proximity to the Washington state capital, Olympia, means access to many renowned writers and nature enthusiasts as well as several theatres, poetry and music venues, and local publishing industries. Internships abound with the following:
Print shops
Newspapers and radio
Publishing companies
State and local governments
Nonprofits and associations
Related internship possibilities include:
United Nations Careers »
DC Internships »
The Hague Institute for Global Justice »
Hear It from a Saint
"The writing minor has provided me the opportunity to expand and strengthen my writing skills to support my political science major and my legal studies minor; by working on genres not used in research settings, I have been able to expand my approach to writing research and report based papers. I have also been able to use the skills gained in the classes required by the writing minor to apply for and be accepted into internships that stress strong writing skills."​
Kennedy Birley '20
Political Science
Writing Requirements
Three or more credit hours of literature
Nine credit hours; one course from each of three categories below (of which 3 credit hours must be lower division)
Six upper-division credit hours; any two courses from the three categories below
Creative writing courses
WRT 292: Creative writing
WRT 405: Advanced creative writing
THR 302: Playwriting
THR 402: Playwriting II
Professional and academic writing
WRT 306: Professional and academic writing skills
WRT 320: Ethics in writing
WRT 390: English internship
Journalism courses
WRT 299: Intro to journalism
WRT 302: Advanced journalism
WRT 303: Digital journalism
Writing

at a Glance
Program Type

Minor
Campus

Main (Lacey)
Type of Instruction

In Person
School
Resources