Julie Yamamoto, MA
Julie Yamamoto, MA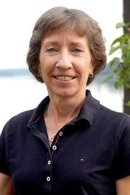 Director of Academic Support
Director, The Writing Center
Instructor, English
Center for Student Success
O'Grady Library
5000 Abbey Way SE
Lacey, WA 98503

 
Office Hours
Mondays and Fridays:
1-4 p.m.
Wednesdays:
1-5 p.m.
Area of Expertise
Composition, medical and scientific writing and editing
Business communications
Journalism
Technical writing
Cross-cultural communication
Literature
Although a native of the American Midwest, I have lived in many places and learned the challenges and beauties of crossing cultures, both inside and outside the U.S. I have a distinctly pragmatic approach to teaching, believing that my primary focus is what best serves the students as they seek to discover new ideas, new talents, and consequently, themselves and their role in society. This attitude carries over into my work advising students as well. 
Select Publications:
Language editor for:
Surgery of the Cranial Base (Kluwer)
Meningiomas (Raven Press)
Color Atlas of Meningiomas (Lippincott-Raven)
Controversies in Neurosurgery (two volumes: Thieme)
Professional Associations/Memberships: