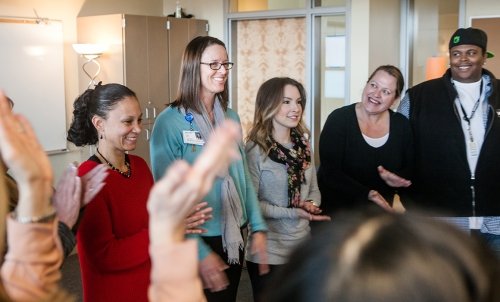 If you are looking for a career where you can make an impact on the mental health and overall well-being of others, psychology may be the best major for you.
Why Saint Martin's University?
Note: Psychology is offered in-person at the main (Lacey) campus; it is offered via online at Saint Martin's-JBLM campus.
Psychology at Saint Martin's structures coursework and field placements to integrate experiential learning with rigorous study of psychology, closely aligned with the Benedictine principle of service to others. The program's curriculum provides a broad-based education in psychology that gives students the skills and self-confidence to use a variety of perspectives in their work with people.
Faculty exclusively staffed by clinical and experimental professionals. All faculty are trained as practitioners as well as researchers.
One 15-week required internship for all majors in either research or applied tracks.
Research projects generated and carried out by students. Faculty act as guides.
Approximately 60 percent of graduates move directly into entry-level social service positions. Remaining graduates pursue advanced degrees in counseling and social work.
Participation in Psi Chi, the psychology honor society for exceptional students.
Student leadership opportunities through Saint Martin's Psychology Club.
Students are encouraged to attend and present at conferences.
Research and internships
Students may take as many as twelve internship credits while completing their degrees. Students pursue internships consistent with their own interests in a variety of settings. These include school counseling, youth outreach, parent and family support, juvenile and adult corrections, drug and alcohol counseling, youth recreation leadership, mental health counseling, case management, social welfare casework, elder services, halfway house and shelter work, vocational rehabilitation, and personnel work. 

Undergraduate internship agreement
Internship locations include:
Community Mental Health Centers
Correctional facilities
Military/JBLM
Thurston County prosecutor's office
Crisis Clinics
Haven House
In addition to internship opportunities, Saint Martin's psychology students are encouraged refine and present their senior capstone research projects at such venues as:
Western Psychological Association conferences
American Psychological Association (APA) conferences
Psychology Requirements
Details on courses, including university core requirements, can be found in the academic catalog. 
12 credit hours of lower-division courses
30 credit hours of upper-division courses
Six credit hours of lower-division courses
15 credit hours of upper-division courses
Drugs, the family and society
Health psychology
Psychology and law
Psychology of religion and spirituality
Trauma and recovery
Psychology

at a Glance
Degree

Bachelor of Arts
Program Type

Major
Minor
Campus

Main (Lacey)
Saint Martin's-JBLM
Type of Instruction

In Person
Online
School
Resources