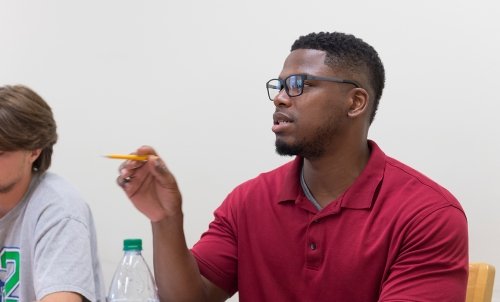 Graduate
Leadership Studies
Saint Martin's first doctoral program is designed to empower the next generation of researchers, scholars and practitioners to make significant contributions to the field of leadership studies while addressing the pressing need for leadership in today's world. Please note: F1 and J1 status international students are not eligible for the Ph.D. program. Ph.D. applications are now closed. Application process will open on August 1, 2023. Please see application requirements below for more info.
Why Saint Martin's University?
Saint Martin's Ph.D. in leadership studies offers:
Doctoral degree founded on a Benedictine liberal arts approach
Rigorous yet practical courses grounded in prevailing theory and a social change/transformation orientation
A collaborative approach to student and faculty relationships
Preparation for leaders to contribute to the global society
Close proximity to the state capitol, providing graduates local opportunities across a variety of sectors
Courses offered in blended online modalities
New cohorts begin each summer
Residency Week 2023: pre-work May 15-29, course days (via Zoom) May 30-June 3
Leadership Studies Requirements
Application opens: August 1, 2023
Priority Application due date: February 1, 2024
Applications close:  April 3, 2024
Interview days will be offered during the third week of February, March, and April
Important: F1 and J1 status international students are not eligible for the Ph.D. program.
Applicants must submit all of the required materials for University graduate admission (see the graduate admission section of the catalog) plus the following program specific materials:
Master's degree from a regionally accredited institution
A minimum of three letters of recommendation sent directly from the letter writer to the University (two of which should be from a faculty member who can speak to academic readiness for a doctoral degree)
A 750 word (or one and a half pages typed and double spaced) written statement of purpose in which applicants describe their preparation for the program, reasons for desiring entrance into the program, and career objectives
A 1,000 word (or three to five pages typed and double spaced) written scholarly response to provided article
Applicant interview
3 to 5 years of professional work experience
In addition to the application, applicants may send forms, fees, and letters of recommendation to:
Office of Graduate Admissions
Saint Martin's University
5000 Abbey Way SE
Lacey, WA 98503-7500
gradstudies@stmartin.edu
Candidates plan courses of study in consultation with a program advisor. That course plan may not be changed without prior approval.
A student working toward a Ph.D. degree in leadership studies must be accepted as a degree candidate.
To be a degree candidate, the student must complete the following:
Have completed the leadership studies core curriculum with their cohort
Be in good standing
Have earned a cumulative grade point average of 3.0
Successfully completed their expectations regarding comprehensive review of their candidacy (exam or other review established by the faculty)
Formed a dissertation committee (chairperson chosen and committee members identified with the chairperson)
Degree candidates must complete an approved course of 51 credit hours to secure their degree.
Leadership core curriculum (18 credits)
LD 801: Multi-disciplinary perspectives of leadership and practice
LD 802: Philosophies of knowledge, acquisition and research
LD 803: Political, economic and social understandings of leadership
LD 804: Past, present and current leadership theories – future possibilities
LD 805: Leadership through the lens of power, freedom and change
LD 806: Applied leadership practices (doctoral internship)
Concentration curriculum (15 credits)
Options to be determined by faculty teaching in current graduate programs and approved by your advisor/instructor. Transfer graduate credits can also count in this area.
Research curriculum (9 credits)
Required
LD 810: Applied statistics and quantitative research methods
LD 811: Qualitative research methods
Choose one of the following (choose what is needed for dissertation)
LD 901: Advanced quantitative research methods, or
LD 902: Advanced qualitative research methods, or
LD 903: Action research methods, or
LD 904: Historical research methods
Dissertation research (9 credits)
LD 910: Dissertation proposal
LD 911: Dissertation I
LD 912: Dissertation II
How long does it take to complete the program?
The average time expected to complete the Ph.D. in leadership studies is two-and-a-half years for coursework with a self-paced dissertation to follow. With a full graduate load (six credits per semester and summer), it is possible to complete the program in three years (two years of intensive coursework and one year minimum for a dissertation).  
Is the program accredited?
The Ph.D. program in leadership studies is accredited by Northwest Commission on Colleges and Universities.
What jobs will program graduates be qualified for?
After graduation, students may choose to become university or college professors, educational administrators (preschool-12 or higher education), policy analysts, ministers, local leaders, evaluators, consultants, executive coaches, or business leaders (C-suite). Being located near the state capitol offers graduates the opportunity to contribute to our greater community as leaders across a variety of sectors.
Leadership Studies

at a Glance
Degree

PhD
Program Type

Postgraduate
Campus

Main (Lacey)
Type of Instruction

Hybrid