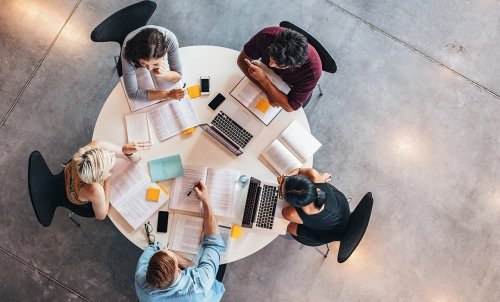 The Minor in Management is available to Accounting majors, Business Administration majors pursuing a non-Management concentration, and to students pursuing majors within the other Schools and Colleges of Saint Martin's University.
Why Saint Martin's University?
Acknowledging the technologic innovation, ever-changing global marketplace, and challenged ecosystems currently shaping the world, the Business Administration Program offers students an opportunity to learn and practice general management skills, discover the need for ethical problem-solving and acquire functional business area expertise.
Through practice and active learning, students also gain the ability to work cooperatively and productively in diverse teams. They become effective writers and speakers, and they demonstrate sharpened professional judgment. Students graduate with a broad perspective on the business world and its place in our culture. Saint Martin's graduates have the ability to work across business functions, adjust quickly to new situations, accept change and ambiguity as a natural part of life, and become enthusiastic lifelong learners.
Management Requirements
School of Business students may not use professional component classes required by their degree to fulfill the Minor requirements.
Foundation courses (9 credit hours)
ACC 200: Survey of Accounting (or ACC201 and ACC202)
BA 225: Business Law I
ECN 201: Principles of Microeconomics
Professional Component (choose 15 credit hours)
BA 320: Operations Management
BA 335: Organizational Management
BA 340: Human Resource Management
BA 325: Fundamentals of Entrepreneurship
BA 370: Project Management
BA 475: Risk Management
BA 470: Organizational Leadership and Change Management
The credit hours for these courses only pertain to the Management minor and do not reflect the total number of credit hours necessary for graduation, which is 120.
Management

at a Glance
Program Type

Minor
Campus

Main (Lacey)
Saint Martin's-JBLM
Type of Instruction

In Person
School