Matondo Wawa, D.M.
Matondo Wawa, D.M.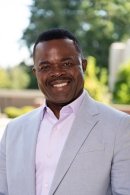 Assistant Professor, Business
Old Main 379
5000 Abbey Way SE
Lacey, WA 98503

Office hours:
Tuesdays, Thursdays
2:30-5 p.m.
"Seek first to understand, then to be understood."- Francis of Assisi
Education
B.A. in film, University of Las Vegas; M.S. in international management and healthcare, Troy University; Doctor of Management (D.M.) in leadership management, University of Phoenix
Dr. Matondo Wawa developed a community of leaders in order to drive a dynamic movement of entrepreneurs using business as a force for good. He has extensive experience and a well-deserved reputation for developing and delivering even the most challenging organizational goals and objectives. Dr. Wawa has an unwavering belief in the inherent ability of all people to contribute meaningfully to economic and social development. He is committed to creating eco-friendly, sustainable businesses in destitute communities around the globe in multi-faceted ways, including but not limited to new inventions. His unique approach and more rigorous applications of known technologies and strategies has allowed him to coach people on their individual and professional development. He strives to motivate people to participate in change efforts and self-improvement. Furthermore, Dr. Wawa has experience counseling leaders of culturally diverse and sensitive groups to resolve conflict. Being a pragmatic and focused individual, he enjoys tackling and taming challenging situations. Thus, he took on the job of supervising and participating in the training and development of local and regional leaders. He is innovation conscious, which motivates him to look for new products and services, as well as approach finding solutions for social problems. He believes in continuous adaptation and the refining of approaches in response to insightful feedback.
Recognitions/select publications: 
Motivational speaker 
Author of "Power Through – Specific Success Strategies for Solopreneurs Who Want to Change Your Destiny One Day at a Time." (2015). (Amazon)
Co-founder, SW 2 Leadership Model© (copyright, National Library of Congress).
Lean and Six Sigma black belt certified and Project Management certified.
Recipient, 11 medals and commendations, including the Bronze Star, based on training, mentoring, and leading diverse teams in Iraq battlefield and diverse international operations.