Andrew Barenberg, Ph.D.
Andrew Barenberg, Ph.D.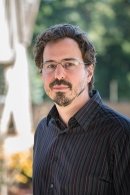 Associate Professor, Economics
Old Main 370
5000 Abbey Way SE
Lacey, WA 98503

 
Office Hours
Mondays & Wednesdays
9:30-11:00 a.m.
Tuesdays & Thursdays
10:30-11:30 a.m.
"Poverty is not just a lack of money; it is not having the capability to realize one's full potential as a human being." - Amartya Sen
Education
B.A., University of Missouri - Kansas City; Ph.D., University of Massachusetts-Amherst
After completing high school, Dr. Andrew Barenberg worked as an Americorp VISTA volunteer and in the Kansas City Catholic Chancery Peace and Justice Office. This work left him with an interest in issues of poverty and inequality. This inspired him to study economics first at the University of Missouri-Kansas City and then at the University of Massachusett-Amherst. During his studies he helped establish a pay-day loan alternative in Kansas City and set up girlstoschool.org, a 501(c)3 not-for-profit that provides educational opportunities to girls in Mauritania. After completing his Ph.D., Dr. Barenberg taught for one year at Denison University before coming to Saint Martin's University. His interests include watching and playing soccer, keeping up with the science of climate change, and hanging out with his family.
Select publications:
Public Health Expenditure, Inequality, and Infant Mortality across Indian States, 1981- 2010. Co-authored with Deepankar Basu and Ceren Soylu. Journal of Development Studies. (2016 Oct): 1-20.
Small and as Productive: Female Headed Households and the Inverse Relationship between Land Size and Output in Kenya Co-authored with Mwangi wa G ̃ıth ̃ınji and Char- alampos Konstantinidis. Feminist Economics (2014): 1-29.
Microfinance for water and sanitation: a case study from Tiruchirappalli, India. In- cluded in Water, sanitation and hygiene: sustainable development and mul- tisectoral approaches. Proceedings of the 34th WEDC International Conference, United Nations Conference Centre, Addis Ababa, Ethiopia, 18-22 May 2009 pp. 68-74.