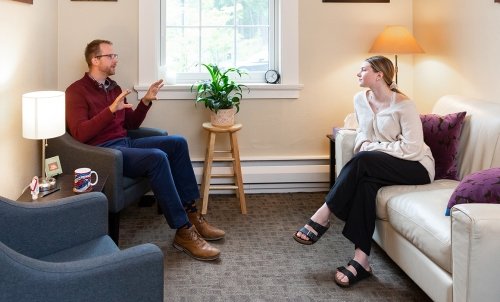 Graduate
Master of Arts in Counseling
Master of Arts in Counseling
The Master of Arts in Counseling Program (MAC) prepares professionals in the theoretical foundations and skills necessary for advanced positions in the fields of individual, couple, and family counseling. Built on a philosophy of service, intellectual hunger, fundamental respect, social justice, and a focus on the person of the counselor, the MAC program strives to embody spirit, empathic care, intellect, and wisdom. The MAC program is characterized by personal, social, and professional transformation, liberation, and enrichment.
Why Saint Martin's University?
Position statement
Our work strives to embody social justice through a continuing cultivation of ethical and culturally relevant methodologies. In resonance with the values of the American Counseling Association, the National Board for Certified Counselors, accrediting organizations for counseling programs, and our Catholic Benedictine framework, we recognize the dominance of white/euro-centric norms and teach cultural humility by rejecting anti-immigrant rhetoric and action.
We affirm the self-determination of indigenous and native communities by hearing their stories and supporting decolonization. We work to deconstruct the walls of sexism and transphobia by integrating feminist and trans-valuing theories into our practice. We actively counter ageism, ableism, classism, racism and heterosexism in our communities by admitting their pervasiveness and implementing corrective actions. In the spirit of Benedictine sincere hospitality, we extend welcome to members of all faiths and to those who do not identify as having a religious membership.
Program highlights and resources
All required courses are offered at least once per year during evening hours. All courses are offered on a schedule of one meeting per week. Courses are offered both in the afternoons and evenings Monday through Thursday, with internship classes held on Saturdays.
Coursework in the MAC program supports counseling careers and licensure in the Licensed Mental Health Counselor (LMHC) field and the Licensed Marriage and Family Therapist (LMFT) field.
Counselors are trained and licensed to work with individuals, couples, relationships, family systems, and groups. 
Teaching methods include dyad, small-group work, lectures, media, presentations, and discussions as well as supervised role playing, psychodrama, and introspective exercises.
A required 600-hour internship complements coursework by providing students with a supervised, in-depth opportunity to work in a variety of counseling settings.
MAC faculty areas of interest
Anti-oppression, appreciative inquiry, access and technology, authentic leadership, collaboration, conflict as opportunity, decolonization, depth work, faith and community, indigenous wisdom, love, military families, professional identity, relational approaches to research, social change, spontaneity and creativity, subtle activism, and vulnerability.
Specialty areas
Our program specializes in both Clinical Mental Health Counseling and Marriage, Couple and Family Counseling. Students in our program are trained to work with individuals, couples, relationships, families, and groups from a systemic and contextually sensitive perspective. The program prepares students for dual licensure in the State of Washington as Mental Health Counselors (LMHC) and Marriage and Family Counselors (LMFT).
Methods of instruction
Teaching methods include use of dyads, small-group work, lectures, media, presentations and discussions as well as supervised role playing, psychodrama and introspective exercises. A required 100-hour practicum opportunity takes place in the fall of the second year, and a 600-hour internship during the fall and spring of the third year.
Advising
All students are assigned an advisor from the core faculty with whom they will meet at least once per semester. This can take place in a group advising session or one-on-one as decided by the student and the faculty advisor. In addition to course scheduling, advisors will discuss such topics as transfer procedures, policy exceptions, a student's progress through the program, difficulties or misunderstandings that might arise, placement ideas for the required practicum and counseling internship, career directions, employment opportunities, and any other academic issues and questions.
Students can request a formal advisor change without having to explain why.
Looking for course syllabi, handbooks, internship forms, or more more resources?
Master of Arts in Counseling Requirements
Admissions criteria
Visit graduate admissions online to find out what it takes to apply for the MAC program.

No GRE is required for entrance.
Application deadlines
Fall semester (late August - December)
Priority deadline: March 1st
Deadline as additional spots are available: 3rd Monday in June
Spring semester (January - May)
Deadline as spots are available: 3rd Monday in October
Program cost
Per credit 2022-2023:
$1320 per credit (civilian)
$500 per credit (active duty military)
Projected tuition for the three-year MAC program: 
(subject to change as credit cost can fluctuate each year)
$79,200 (civilian)
$30,000 (active duty military)
Financial aid
Learn more about your financial aid options as a MAC student.
Program candidates must complete the program in three to seven years. The MAC program follows a cohort model: Below is the designed three-year progression, Year One focuses on foundations of counseling, Year Two on impacts, and Year Three on reflective practice. The progression of the program in four to seven years is available for reference below in "Additional Forms."
While the design of the program is for students to complete in three years, under special circumstances the time limit for completing degree requirements is seven years. Students who fail to take courses for more than one academic year will be required to re-apply to the program and re-enter under requirements current at the time the new application is submitted.
The official, most up-to-date class offerings can be found by using Self-Service or the graduate academic catalog. For significant term dates refer to the academic calendar.
Year 1: Foundations (21 semester credits)
Fall (6 credits)
MAC 508: Counseling and Helping Relationships
MAC 528: Foundations of Couple and Family Counseling
 
Spring (9 credits)
MAC 518: Group Counseling
MAC 538: Professional Counseling Orientation and Ethics
MAC 548: Crisis, Trauma, Violence, Abuse
 
Summer (6 credits)
MAC 558: Contextual Dimensions of Couple and Family Counseling 1
MAC 568: Human Growth and Development
 
Year 2: Impacts (21 semester credits)
Fall (9 credits)
MAC 578: Impacts of Addictions
MAC 588: Assessment and Testing 1
MAC 598: Counseling Practicum
 
Spring (6 credits)
MAC 608: Research and Program Evaluation
MAC 618: Social and Cultural Diversity
 
Summer (6 credits)
MAC 628: Assessment and Testing 2
MAC 638: Family Structure and Family of Origin
 
Year 3: Reflective practice (18 semester credits)
Fall (6 credits)
MAC 648: Practice of Couple and Family Counseling
MAC 668: Counseling Internship 1
 
Spring (6 credits)
MAC 658: Career Development
MAC 678: Counseling Internship 2
 
Summer (6 credits)
MAC 688: Applied Group Work
MAC 698: Contextual Dimensions of Couple and Family Counseling 2
All MAC students are required to complete a minimum of 10 sessions of individual, group or family counseling while in the program. This is true even for those students who have received some kind of counseling before entering Saint Martin's University or those who intend to seek counseling after they have finished the MAC program. This counseling is expected to take place during the first two semesters of the program. It must definitely take place before application for degree candidate status (see the University's MAC web page for more detailed information).
Counseling must be conducted by a licensed mental health counselor, a licensed marriage and family therapist, a licensed clinical social worker, a licensed clinical psychologist, an MD psychiatrist, or a mental health therapist of equivalent status. The therapist must be approved prior to beginning therapy. Forms are available on the University's MAC web page.
All MAC students will become members of a professional counseling organization such as the  American Counseling Association (ACA) or the American Association of Marriage and Family Therapy (AAMFT). 
This membership provides students the opportunity to build a sense of professional identity and commitment to the profession. Students are encouraged to attend conferences, events and workshops hosted by the professional counseling organization they become a part of. Faculty advisors may assist students with questions regarding this membership and related activities.
Does the coursework meet the requirements of the Department of Health credentials "Licensed Mental Health Counselor" and/or "Licensed Marriage and Family Therapist"?
The coursework is designed to match or exceed the Department of Health requirements which are listed under WAC 246-809-220 (for MHC) and WAC 246-809-120 (for MFT) at their website. Look under Sections 120 and 220 at this link.
Can I work full time and complete the MAC program?
All required courses are offered at least once per year during evening hours. All courses are offered on a schedule of one meeting per week. Most courses are offered during the evening hours, although afternoon courses and some Friday and Saturday classes are occasionally offered.
Are there opportunities for students to work in the program such as assistantships or teaching assistant positions?
Our program does not currently offer teaching assistant positions to students. Graduate Research Assistant (GRA) positions may be available for MAC students. GRAs work in service of program faculty or campus administration 10 hours per week in exchange for a partial tuition waiver. The number of available positions fluctuates each semester. If this position interests you, please submit a cover letter stating your qualifications to the Office of Graduate Studies, specifying that you are seeking a GRA position at the school or specifically in the MAC program.
What are my employment options with a MAC degree?
By far, the most common career objective among graduate students is to become an individual, group or family therapist. Students wish to work with a variety of age groups and specific clientele and deal with divergent presenting problems such as anger control, sexual abuse, chemical dependency and so on. Most of these students hope to work in mental health agencies, treatment facilities and private practice agencies.
Master of Arts in Counseling

at a Glance
Degree

Master
Program Type

Master's Degree
Campus

Main (Lacey)
Type of Instruction

In Person