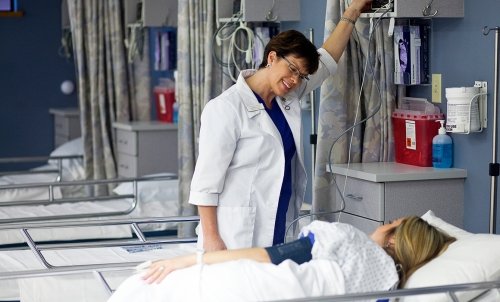 Undergraduate
Nursing RN to BSN
Are you a registered nurse (RN) looking for a pathway to earn a bachelor of science in nursing (BSN) while working in the field? Saint Martin's RN to BSN program may be the best fit for you.
Why Saint Martin's University?
The RN to BSN program at Saint Martin's provides Registered Nurses a pathway to earning a Bachelor of Science in Nursing (BSN) degree. Pursuing your degree in Saint Martin's hybrid RN to BSN program allows you to earn your degree in as little as one year, attend class only one night per week, learn through a hybrid teaching model and advance your career earning power.
Now accepting RN to BSN applications for Fall 2023
Mission statement
The nursing program at Saint Martin's University is dedicated to making a positive difference in the lives of its students and others through the core values of faith, reason, service and community. It empowers its students to pursue lifelong learning, accomplishment and fulfillment as nurses and human persons.
Program highlights
Complete your BSN in as little as one year
Attend class one night a week
Affordable
Hybrid (traditional/online) learning model
Scholarships
Small class sizes
Flexible program start dates
Option to attend full or part time
Accredited through CCNE
Approved by NCQAC
Located in the South Puget Sound region of Washington
Practicum and capstone opportunities
Proximity to the state capital provides RN to BSN students with a variety of opportunities with government agencies and non-profit organizations. Students often design capstone projects with a service component, maximizing meaningful engagement with the community. Projects have included:
Development of a Department of Health statewide webinar on immunizations for pregnant women
Creation of a presentation on compassion fatigue for nurse residents at a local hospital
Providing the evidence-base for naloxone distribution in Thurston County
Establishing policies and procedures for a community shelter for people experiencing homelessness
Collaborating with the Thurston County Nurse Family Partnership
Nursing RN to BSN Requirements
AMERICAN ASSOCIATION OF COLLEGES OF NURSING (AACN) SCHOLARSHIPS
The American Association of College of Nursing maintains a database of scholarships, grants and loan forgiveness programs that are specific to nursing.  
View scholarships and financial aid opportunities from AACN
HEALTH RESOURCES & SERVICES ADMINISTRATION NURSE CORPS SCHOLARSHIPS
As a student accepted or enrolled in a diploma, associate, baccalaureate, or graduate degree nursing program, you can receive funding for tuition, fees, and other educational costs. In exchange, you must work at an eligible facility with a critical shortage of nurses—a Critical Shortage Facility (CSF)—upon graduation.
Award
We give funding preference depending on your financial need.
Eligibility
You must be:
a U.S. citizen (born or naturalized), a national, or a lawful permanent resident;
enrolled—or accepted for enrollment—in a professional nursing degree program at an accredited school of nursing in the U.S.;
beginning classes no later than September 30;
free from any federal judgment liens;
free from an existing service commitment;
not overdue on a federal debt.
Apply for the Nurse Corps Scholarship Program
NATIVE HAWAIIAN HEALTH SCHOLARSHIP
The Native Hawaiian Health Scholarship Program (NHHSP) addresses access to health care by developing a Native Hawaiian health care workforce of professionals committed to serve the unique health needs of Hawaiian communities. The program recruits and nurtures professionals in-training for primary health care disciplines and specialties most needed to deliver quality, culturally competent health services to Native Hawaiians throughout the State of Hawai'i. 
The merit-based program awards generous scholarships to eligible individuals that appear to be dedicated to providing primary health services to Native Hawaiians and their families in Hawai'i.
Apply for the Native Hawaiian Health Scholarship
NURSING FUND SCHOLARSHIP
Nursing scholarship funds are set aside each year to assist students with nursing school finances.
Eligibility
To be eligible for an award, a student must be in good academic standing in the RN-BSN or BSN program.
Apply for the Nursing Fund Scholarship
PIERCE COUNTY NURSES ASSOCIATION SCHOLARSHIP
PCNA offers four different types of scholarships to nursing students. Scholarship funds are sent directly to the accredited school.
Eligibility
PCNA scholarships are available to students living or attending school in Pierce County as well as within our expanded jurisdictional boundaries of Thurston, Kitsap, Grays Harbor, Mason, Clallam and Jefferson counties.
Apply for the Pierce County Nurses Association Scholarship
PROVIDENCE SAINT PETER FOUNDATION SCHOLARSHIP
The Providence Foundation scholarship is from the Foundation's Greatest Need Fund.
Amount
Amount of the awards are based on a combination of need (FAFSA) and overall potential contribution to the nursing profession.
Eligibility
To be eligible for an award, students must meet employment criteria at Providence Southwest Region, submit an essay addressing specified criteria, and be enrolled, at least half-time as a student in Saint Martin's University RNBSN program, and be in good standing in the program.
Apply for the Providence Saint Peter Foundation Scholarship
WASHINGTON STATE NURSES FOUNDATION SCHOLARSHIP
The Washington State Nurses Foundation (WSNF) awards scholarships annually to qualified students who meet the eligibility requirements as outlined on the application website.
Amount
The minimum amount of each scholarship is $1,000. 
Apply for the Washington State Nurses Foundation Scholarship
Nursing RN to BSN

at a Glance
Degree

Bachelor of Science in Nursing
Program Type

Major
Campus

Main (Lacey)
Type of Instruction

In Person
School