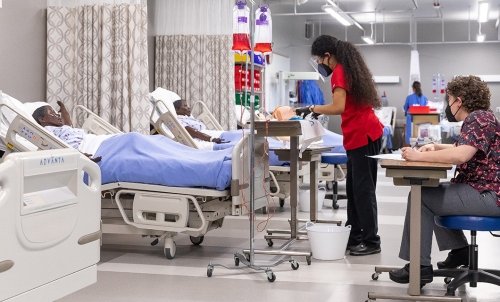 The Saint Martin's nursing program is dedicated to educating nurses to care for diverse populations in the ever complex care environment.
Why Saint Martin's University?
Saint Martin's Nursing - Nurses with a heart
Nursing is a growing profession with a predicted shortage of 7,000 nurses in Washington in 2025.
A BSN in Nursing provides you opportunities to care for persons across the care continuum from community-based health promotion to caring for critically ill persons in the hospital, from birth in the obstetrics unit to a comfortable death. With a BSN, you will be a leader and policy maker, as well as a change maker in your community.  
We offer three paths to the Bachelor of Science in Nursing (BSN):
Traditional BSN
The traditional BSN is right for you if you are not currently a practicing nurse.
Learn more about our traditional BSN program
 
RN to BSN
RN to BSN is the right program for you if you are already a RN.
Learn more about our RN to BSN program
 
LPN to BSN
Already an LPN? Inquire about our upcoming LPN to BSN program.
Learn more about our LPN to BSN program
Why choose Saint Martin's Nursing?
Small class sizes to foster your learning
Clinical sites and experiences in the community and acute care settings designed to meet your learning needs and help you grow as a nurse
Faculty who practice as nurses and who are current on nursing practice 
Scholarships available for all students
Accredited by the Commission on Collegiate Nursing Education (CCNE) 
Mission
The Department of Nursing at Saint Martin's University is dedicated to creating a learner-centered education grounded in the university core values of faith, reason, service and community. The program prepares nursing graduates who are committed to evidence-based practice, social justice and lifelong learning to meet the needs of the global community in the 21st century.
Nursing program application timeline
Aug. 1, 2023: Application opens for first-year, transfer, and LPN-BSN applications for 2024
Feb. 1, 2024: Application deadline for first-year, transfer, and LPN-BSN applications for 2024
Rolling Admission: Applications for the RN-BSN program are accepted year round for the following semester
Nursing Requirements
American Association of Colleges of Nursing (AACN) scholarships
The American Association of College of Nursing maintains a database of scholarships, grants and loan forgiveness programs that are specific to nursing.  
View scholarships and financial aid opportunities from AACN
Health Resources & Services Administration Nurse Corps scholarships
As a student accepted or enrolled in a diploma, associate, baccalaureate, or graduate degree nursing program, you can receive funding for tuition, fees, and other educational costs. In exchange, you must work at an eligible facility with a critical shortage of nurses—a Critical Shortage Facility (CSF)—upon graduation.
Award
We give funding preference depending on your financial need.
Eligibility
You must be:
a U.S. citizen (born or naturalized), a national, or a lawful permanent resident;
enrolled—or accepted for enrollment—in a professional nursing degree program at an accredited school of nursing in the U.S.;
beginning classes no later than September 30;
free from any federal judgment liens;
free from an existing service commitment;
not overdue on a federal debt.
Apply for the Nurse Corps Scholarship Program
Native Hawaiian Health Scholarship
The Native Hawaiian Health Scholarship Program (NHHSP) addresses access to health care by developing a Native Hawaiian health care workforce of professionals committed to serve the unique health needs of Hawaiian communities. The program recruits and nurtures professionals in-training for primary health care disciplines and specialties most needed to deliver quality, culturally competent health services to Native Hawaiians throughout the State of Hawai'i. 
The merit-based program awards generous scholarships to eligible individuals that appear to be dedicated to providing primary health services to Native Hawaiians and their families in Hawai'i.
Apply for the Native Hawaiian Health Scholarship
Nursing Fund Scholarship
Nursing scholarship funds are set aside each year to assist students with nursing school finances.
Eligibility
To be eligible for an award, a student must be in good academic standing in the RN-BSN or BSN program.
Apply for the Nursing Fund Scholarship
Pierce County Nurses Association Scholarship
PCNA offers four different types of scholarships to nursing students. Scholarship funds are sent directly to the accredited school.
Eligibility
PCNA scholarships are available to students living or attending school in Pierce County as well as within our expanded jurisdictional boundaries of Thurston, Kitsap, Grays Harbor, Mason, Clallam and Jefferson counties.
Apply for the Pierce County Nurses Association Scholarship
Providence Saint Peter Foundation Scholarship
The Providence Foundation scholarship is from the Foundation's Greatest Need Fund.
Amount
Amount of the awards are based on a combination of need (FAFSA) and overall potential contribution to the nursing profession.
Eligibility
To be eligible for an award, students must meet employment criteria at Providence Southwest Region, submit an essay addressing specified criteria, and be enrolled, at least half-time as a student in Saint Martin's University RNBSN program, and be in good standing in the program.
Apply for the Providence Saint Peter Foundation Scholarship
Washington State Nurses Foundation Scholarship
The Washington State Nurses Foundation (WSNF) awards scholarships annually to qualified students who meet the eligibility requirements as outlined on the application website.
Amount
The minimum amount of each scholarship is $1,000. 
Apply for the Washington State Nurses Foundation Scholarship
Is there a separate nursing application?
No. Transfer nursing students submit the same online transfer application as other Saint Martin's transfer students.
There are specific essay question prompts for nursing applicants.
What is holistic admissions?
Saint Martin's has a holistic admission review process that considers academic factors in conjunction with:
A student's unique talents and experiences
Extra curricular activities (leadership positions, service activities, hobbies, jobs, clubs, family commitments, experience in or with health care, etc.)
Letter(s) of recommendation
Nursing application essays
Other factors may be considered include: being a first generation college student or being economically or environmentally disadvantaged.
How many transfer students will be admitted to the traditional BSN program?
Transfer students are admitted on a space available basis into the upper division nursing program.
The number of transfer students admitted each year will vary.
What is the deadline for submitting an application for the traditional BSN program?
Feb. 1 for both fall and spring cohorts.
Transfer students will be offered admission to either the fall or spring cohort when accepted.
What are the application deadlines for the RN to BSN program?
Applications for the RN to BSN program (for those who already have or are completing a nursing degree) are accepted year round.
Students may start the RN to BSN program any semester.
What if I do not have a 3.0 GPA or a 3.0 GPA in the pre-requisite sciences?
Nursing is a competitive, academic rigorous major. Most competitive applicants will have a higher GPA than the 3.0 GPA minimum.
I received a B or lower in a pre-requisite course. May I repeat it for a higher grade?
Applicants may repeat one pre-requisite science course one time.
Applicants with multiple repeated courses or withdrawals from courses will be less competitive.
An explanation of lower grades or withdrawals (i.e. deployment) may assist in the admissions review.
Applicants must have a 3.0 GPA or higher in all course work, and a 3.0 GPA or higher in a pre-requisite science courses.
Do I have to have all the prerequisites done before applying for the BSN program?
No, you do not have to have all the pre-requisite courses completed before applying to the nursing program. 
You do need to have enough of the science courses done to demonstrate you are able to get a 3.0 GPA or higher in the pre-requisite science courses. 
In your application you will provide a reasonable timeline of when you plan to complete your pre-requisite courses.
Applicants must complete all pre-requisite courses before beginning the nursing coursework at Saint Martin's.
Do I need to be a Certified Nursing Assistant before applying to the BSN program?
No. We will not require NAC certification for our BSN program.
Do you require the TEAS test?
How many clinical hours are in the BSN program?
The BSN nursing curriculum includes 650 hours of direct patient-care clinical practicum, and 480 hours of lab and simulation learning in the Bruno and Evelyne Betti Nursing Education Center in Old Main hall.
What are the acceptance rates for the nursing programs?
Traditional BSN transfer students: 14%-16% acceptance rate
RN-BSN students: 100% acceptance rate
LPN-BSN students: This program is too new, but will have acceptance rates in 2023 after the first cohort's graduation.
Nursing

at a Glance
Degree

Bachelor of Science in Nursing
Program Type

Major
Campus

Main (Lacey)
Type of Instruction

In Person
School