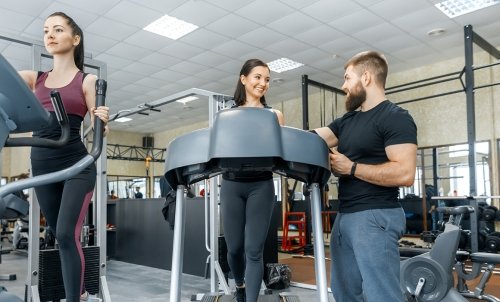 Undergraduate
Exercise Science
Looking for a way to use your passion for physical fitness in a career helping others? Exercise science may be the right major for you.
Why Saint Martin's University?
Saint Martin's exercise science degrees provide academic and professional preparation for undergraduate students in areas related to the study of human movement and physical activity.
A knowledge of developing the well-being of others is key to the success of this program.  We strive to create a deeper understanding of how physical activity impacts the whole person and strengthens a community.
Our B.S. program offers a degree centered in the health sciences, while our B.A. program focuses on physical education and management.
The successful completion of your degree will allow you to enter the workforce in a variety of health and fitness careers. 
You will be prepared to take certification exams related to health and fitness, such as:
NSCA-CSCS
ACSM
Health Fitness Certifications
Internship requirement
Through the internship requirement, you obtain applicable job related experiences, preparing you for the job market.
Learning outcomes
Upon graduation, you will:
Demonstrate proficient understanding of the scientific concepts related to exercise science at a level relevant to the degree option (B.A. or B.S.).
Demonstrate practical knowledge of technology used in health and fitness evaluation, and in designing individual fitness programs.
Exhibit professionalism and integrity in the interactions with individuals seeking care or guidance related to exercise science.
Articulate the importance of physical wellbeing as it relates to the health of the individual and the community.
Preparation for professional health care programs
You will also be prepared to advance into professional healthcare degree programs, such as:
Physical therapy
Athletic training
Sports medicine
Sports management
Chiropractic
Physician assistant
Exercise Science Requirements
Details on courses, including university core requirements, can be found in the academic catalog.  
22 credits of lower-division courses
Six credits of upper-division courses 
21 credits of elective courses
Details on courses, including university core requirements, can be found in the academic catalog.   
42 credits of lower-division courses
Six credits of upper-division courses 
12 credits of elective courses
11 credits of lower-division courses
Six credits of upper-division courses 
Six credits of elective courses
Admin of intramural athletics
Biomechanics
Intro to sports medicine
Psychology and philosophy of coaching
School health education
Exercise Science

at a Glance
Degree

Bachelor of Arts
Bachelor of Science
Program Type

Major
Minor
Campus

Main (Lacey)
Type of Instruction

In Person
School