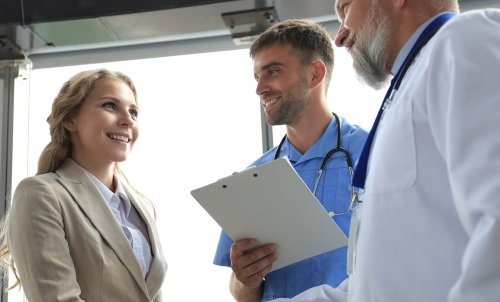 Certificate & Non-Degree
Health Care Management
Interested in advancing into the managerial ranks of the health care industry? Saint Martin's health care management certificate program is designed for motivated health care professionals like you.
Why Saint Martin's University?
Program consists of 15 credit hours and can be completed by taking four eight-week classes between late August and early May followed by a summer practicum
Emphasis on enhancing skills in operations management and understanding health care policy and regulation, with a firm foundation in ethical principles and decision making
Certificate completed by applying skills acquired in the classroom in a supervised health care management practicum experience with a local health care organization
Learn how to manage health care resources for an organization which include personnel, equipment, supplies, services, etc.
Understand and reinforce specific skill sets needed across the healthcare industry
Identify, analyze and manage healthcare resources in organizations through projects with partners
Practice effectively and efficiently managing an organization's resources
Hear it from a Saint
"The Saint Martin's health care management program offers a valuable opportunity for MBA students to learn and excel in the rapidly changing and growing healthcare field. The future of healthcare will be shaped by educated, qualified, and passionate people who are informed and understand the urgent need to improve the industry's policies, processes, and direction."
Liz Colón
MBA student
Associate at Integrated Solutions Group 
Career Opportunities
The health care management certificate program prepares students for leadership careers in this complex and ever-evolving field. According to the Bureau of Labor Statistics, by 2024 - in less than five years - nearly 2.5 million new health care jobs will be created in the U.S. Health care leadership roles exist in both traditional and non-traditional settings and industries including: health care provider organizations, consulting roles, government agencies, law firms, insurance companies, correctional facilities, extended care facilities, pharmaceutical research, information technology, medical software, and health care informatics and analytics.
Learn more about Saint Martin's Center for Career and Calling >>
Health Care Management Requirements
In order to be considered for admission into the health care management certificate program, applicants must meet the following requirements:
Bachelor's degree from an accredited college or university
Minimum undergraduate GPA of 2.75
Proof of English proficiency for international students
Certificate holders wishing to enroll in the MBA program should refer to the School of Business admission requirements
Health Care Management

at a Glance
Degree

Certificate
Program Type

Certificate
Campus

Main (Lacey)
Type of Instruction

In Person
School