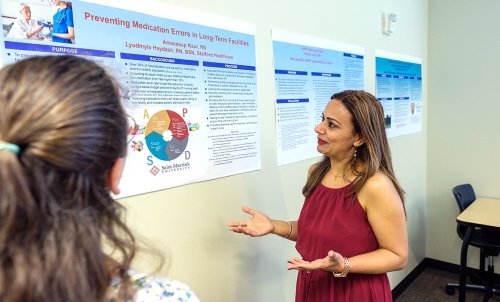 Undergraduate
Nursing LPN to BSN
Are you a Licensed Practical Nurse (LPN) looking for a pathway to earn a Bachelor of Science in Nursing (BSN) while continuing to work? The Saint Martin's LPN to BSN program will offer you the ability to complete your BSN over two academic years by attending class one day a week and one day a week of clinical practicums.
Why Saint Martin's University?
Small class sizes to foster your learning 
Clinical sites and experiences in the community and acute care settings designed to meet your learning needs and help you grow as a nurse 
Faculty who practice as nurses and who are current on nursing practice  
Scholarships available for all students 
Accredited by the Commission on Collegiate Nursing Education (CCNE)
Program highlights
Complete your BSN in two academic years  
One semester (15 credits) of coursework credited for your LPN license  
Attend class one day a week and one day of clinical per week 
Hybrid (traditional/online) learning model 
Scholarships available for all students  
Cohort model offers support of your LPN to BSN classmates  
Located in the South Puget Sound region of Washington 
Pending approval by WA NCQAC, awaiting full approval following the first cohort's 2023 graduation
Important dates for applications and admission
Aug. 1, 2023: Application opens for first-year, transfer, and LPN-BSN applications for 2024
Feb. 1, 2024: Application deadline for first-year, transfer, and LPN-BSN applications for 2024
Application process
 Transfer student applicants to the Licensed Practical Nurse (LPN) to Bachelor of Science in Nursing (BSN) program must meet the transfer admission requirements of the University as outlined in the university catalog and on the Transfer (undergrad) webpage.
Prerequisites for admission to the LPN to BSN Nursing Program 
Unrestricted Washington State Practical Nurse license.  
A cumulative GPA of 3.0 or above. Transfer student GPA is computed from all college-level coursework taken.
A minimum of 3.0 GPA in all required prerequisite science courses. 
Students may repeat one pre-requisite science course one time if they receive a grade of lower than a B. 
Satisfactory completion of all clinical entry requirements, including background clearance, drug screen and immunizations. 
Nursing LPN to BSN Requirements
Core curriculum requirements
Information about core curriculum requirements, most of which may be satisfied by transfer credit, is found in the Academic Policies and Procedures section of the academic catalog. LPN to BSN students will be required to take COR 110: Religious Studies (3) and COR 340W: Ethics, Human Dignity, and Reason (4).
LPN to BSN requirements
All students must meet the university's graduation requirement of 120 total semester hours, which includes accepted transfer credit. A maximum of 90 semester hours (135 quarter hours) will be accepted in transfer toward fulfillment of requirements for the baccalaureate degree. Fifteen (15) semester hours of upper division credit will be awarded, based on verification of successful completion of the NCLEX- PN examination.  
BSN Prerequisite Courses  
BIO 121: Human Biology 
BIO 228/328: Human Anatomy & Physiology I 
BIO 229/329: Human Anatomy & Physiology II 
BIO 251: Microbiology for Applied Health  
CHM 121: Introduction to Chemistry  
MTH 101: Intermediate Algebra  
MTH 201: Introduction to Statistics  
NUR 203: Human Nutrition 
PSY 101: Introduction to Psychology 
PSY 215: Lifespan Development
The curriculum plan for the LPN to BSN student is as follows: 
Junior I semester   
NUR 305: Foundations of Professional Nursing Practice/LPN Skills Review Lab (3) 
NUR 305C: Foundations of Professional Nursing: LPN to BSN Clinical Practicum (1)
NUR 306: Complex Pathophysiology/ Pharmacology (3) 
NUR 350: Translating Research into EBP (3) 
NUR 450: Care Coordination & Interprofessional Collaboration (3)
Junior II Semester  
NUR 310: Health Policy (3) 
NUR 314: LPN to BSN Skills and Simulation Lab (2)
NUR 410: Promoting Population Health in the Community (3)
NUR 415: Promoting Population Health in the Community Practicum for the LPN to BSN student (1) 
NUR 422: Advanced Nursing Management of Childbearing and Childrearing families (2) 
NUR 423: Childbearing Family clinical practicum: LPN to BSN (1) 
Senior I Semester   
NUR 405: Nursing Management of Complex Chronic or Acutely Ill Patients: LPN to BSN (4) 
NUR 406: Nursing Management of Complex Chronic or Acutely Ill Patients practicum (2) 
NUR 413: Advanced skills lab and simulation:  LPN to BSN (1) 
NUR 430: Nursing Leadership (3) 
COR 110: Religious Studies (online) (3)
Senior II Semester   
NUR 480: Synthesis Practicum for LPN to BSN students (3) 
NUR 481: Transition to RN Practice/NCLEX Prep for RN to BSN students (3) 
NUR 490: Capstone (2)
COR 340W: Ethics (online) (4)
Nursing LPN to BSN

at a Glance
Degree

Bachelor of Science in Nursing
Program Type

Major
Campus

Main (Lacey)
Type of Instruction

In Person
School