Alumni
Ora et labora in Hollywood
Ora et labora in Hollywood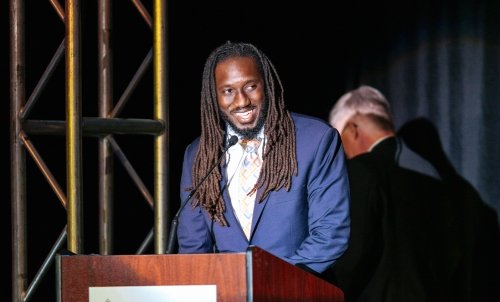 "It was a great experience. I ended up thriving at Saint Martin's. It was due to the environment, and there was a lot of opportunity for leadership."
Ahmadou Seck '11

Business Administration
Class of 2011
Last year, Ahmadou Seck '11 served as an associate producer for the critically acclaimed "Cobra Kai," a television series that provides an update on the lives of Daniel LaRusso (played by Ralph Macchio) and Johnny Lawrence (played by William Zabka), two of the main characters from the film "The Karate Kid." The series was broadcast on YouTube Premium, the paid subscription streaming service from YouTube. Within the first 24 hours, the first episode of the series received more than five million views and has now been viewed more than 53 million times. "Cobra Kai" was renewed for a second season shortly after the first season premiered.
"Cobra Kai was amazing," Seck says. "It was a three-month shoot. I was living in Atlanta for those three months, working. Getting up at the crack of dawn and going to sleep at midnight. We were able to get all the episodes shot, put together, with lots of long days and great energy. We thought we had something special, but we didn't know it was going to be that big of a hit."
Producers in the entertainment industry work as project managers, Seck explained. "Our goal is to find great scripts. Then we find a great director and assemble the team to find financing and make the project. We project manage everything from start to finish, seeing it through fruition to your TV screen or film screen. I used to work at Overbrook Entertainment, which is Will Smith's production company, and they own the rights to "The Karate Kid," because they did the version with Jaden Smith. A few writers, Josh Heald, Hayden Schlossberg and John Hurwitz, pitched the idea for "Cobra Kai" to the company and we loved it. That's how the idea came together."
Seck moved down to Los Angeles after graduation to break into the entertainment industry. When he left for California, he had his degree in business administration and a desire to work behind the camera. What he discovered upon arrival was that he had underestimated how much competition there would be. "When you think about it, it's sort of like college," he says. "Every year, there's a freshman class of individuals from all throughout the world who were big fish in little ponds and they want to come to Los Angeles to make it big. About 80 percent of the people who move here move back home in their first year because it's hard for them to find work or break in."
Seck realized early on that making it in the entertainment industry was all about "Who knows you know what you know," i.e. that other people in the industry need to know what skills you possess so that you can get work and build your reputation. "It took me a good eight months and I was fearful of moving back home my first year. But I got work at CAA, Creative Artists Agency, one of the biggest talent agencies in the world, and there I was able to work as an assistant and learn more of the business of the entertainment industry."
Seck credits his time at Saint Martin's for preparing him for his career. "It was a great experience," he says. "I ended up thriving at Saint Martin's. It was due to the environment and there was a lot of opportunity for leadership. With a group of students, we started the Black Student Union, and then I got into ASSMU (Associated Students of Saint Martin's University), eventually became student body president my junior year and was re-elected senior year. A lot of students were really active to make our experience great, and when I came down to Los Angeles, I still had that same spirit and energy of being proactive—to make it what I wanted it to be. There was a lot of ora et labora (prayer and work) in Los Angeles."
With the abundance of streaming services and over-the-top platforms like YouTube Premium, Netflix, Amazon Prime Video, and Hulu, and the forthcoming launches of Apple's TV production division and Disney+, Seck sees a lot of opportunity in the future. "It's like whoever has the best content wins," he says. "It's great right now for people who want to be producers or writers or create content, because you have more options than you ever did before. Broadcast TV back in the 60s, 70s, and 80s was five channels and they dictated what America saw. Now you can have your show on a plethora of platforms." Seck thinks that the "creative content war," as he calls it, will eventually die down when it becomes financially untenable for the companies and platforms.
"My end goal is that I would love my own production company one day that I can run," he says when asked about his plans for the future. "But currently I'm working on projects with other producers and production companies and developing those until I'm able to make a bigger name for myself. Then I'll be able to start my own shingle."
Undergraduate
Ready to learn how to become an effective and ethical leader in the corporate world? A business administration degree may be the best option for you.
Campus

Main (Lacey)
Saint Martin's-JBLM

Type of Instruction

Degree