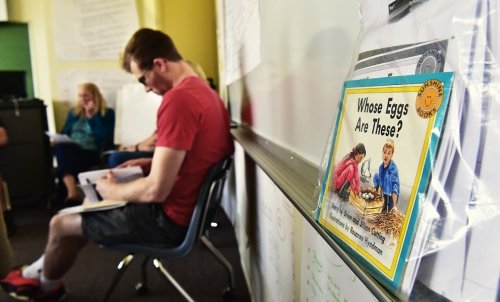 Undergraduate
Secondary Education
If you dream of sharpening and developing the minds of future leaders in the classroom, secondary ed may be the best major for you. Our secondary education program offers students a path to teaching at the middle/high school level, typically grades four through 12, to acquire a teaching certificate from the state of Washington.
Why Saint Martin's University?
The Bachelor of Arts degree in secondary education prepares you to become an integral part of our dynamic, inclusive and compassionate community of teaching professionals. We strive to use our knowledge, skills and dispositions to positively transform the lives of the students we serve.
Secondary ed program highlights:
97 percent of our graduates find teaching jobs after graduation
National accreditation and approved by the Washington Professional Educators Standards Board (PESB)
Faculty members are professional educators with extensive, contemporary, real-world experience and work closely with their students
Top employers includes public schools in Washington, Hawaii and California
Course selections offer a wide spectrum of choice and flexibility
Students participate in internships and network with local teachers and principals
Internships
Before commencement, you participate in a semester-long supervised student teaching internship to help you launch a successful teaching career.
Saint Martin's matches you with a local school to get hands-on experience:
planning and teaching lessons
managing the classroom 
preparing for your teacher certification exam
... all under the guidance of a mentor teacher!
Careers
The secondary ed major prepares you for advanced study and/or teaching careers (grades four through 12) in a variety of environments:
Public or private schools
Tutoring and learning centers
Overseas schools for military dependents
Curriculum coordinator for school districts, museums or libraries
Top employers include public schools in Washington, Hawaii and California.
Study abroad
Study abroad opportunities open doors to teaching internationally.
"I learned about differentiated learning and culturally responsive teaching to help engage students."
Mariah Partin '18
Residence teacher
Branksome Hall Asia
Seogwipo, South Korea
Secondary Education Requirements
Students must apply to the secondary education program before taking any education courses at the 300 level and above. This is a Washington State requirement. Information on the application process can be obtained from the College of Education and Counseling main office in Old Main, room 476.
To ensure proper sequencing of courses, students planning to enter the program must consult an advisor from the College of Education and Counseling prior to taking courses.
To contact the College of Education and Counseling program advisor email education@stmartin.edu or call 360-438-4333.
Core curriculum requirements
Please see the core curriculum section of the catalog.
All Endorsement and (if applicable) second major requirements
Please see the Secondary Education section of the undergraduate catalog for details.
Pre-program requirements
ED 204: Culture, Equity and Education (3)
ED 205: Learning and Development (3)
Program requirements
ED 406: Planning and Assessment (1)
SED 359: Introduction to Exceptionality (3)
HIS 326  -OR-  ED 414: Pacific Northwest History (3)
ED 426: Methods of Language Acquisition (3)
ED 304: Practicum I (1)
ED 362: Professional Issues and Abuse (1)
ED 312: Assistive Technology for All Learners (3)
ED 418: Critical Narratives and Historical Integrations in Teaching (2)
ED 408: Practicum II (1)
ED 395/495  -OR-  ED Special Topics in Education – required Education Elective (3)
SED 461: Instructional Strategies for All Learners (3)
ED 468: Secondary Literacy (3)
ED 484: Secondary Methods (3)
ED 487: Secondary Methods Practicum (3)
In addition – in one dedicated semester with no additional courses
ED 494: Teacher Internship (10)
ED 498: Teacher Internship Seminar (2)
Diversity in educational systems
Technology for the classroom
Educational law and issues of abuse
Issues and trends in English language learners and bilingual education 
Secondary literacy
Arts and movement
Philosophy of reading instruction
Secondary Education

at a Glance
Degree

Bachelor of Arts
Program Type

Major
Campus

Main (Lacey)
Type of Instruction

In Person
Resources