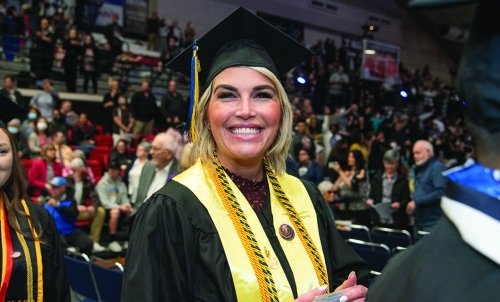 Certificate & Non-Degree
Post-graduate School Administrator Certification
Post-graduate School Administrator Certification
The school administration program is designed to meet requirements for certification as a school administrator (principal or program administrator).
Why Saint Martin's University?
Program flexibility and designed for employed students; courses are offered evenings, hybrid and summers
Reduced tuition during summer months through the Summer Academy Scholarship
Use of case studies, field experiences, guest speakers and reflective assessments to assure relevance
Highly qualified faculty members with many years of real-world experiences working in schools and other educational settings
About the school administrator certification
Either option will help you meet your professional goals through a flexible program offered in small classes taught by highly qualified faculty:
Students without a master's degree: Enroll in the MED program, leading to certification and a master's degree
Students already possessing a master's degree: Enroll in the certification-only option; coursework and experience will be evaluated to determine specific requirements needed
Information sessions
2023-24 information session dates to be announced.
Federal aid
Federal financial aid is available for graduate students who will be enrolled at least half time and are citizens, or eligible non-citizens, of the USA. Most federal aid for graduate students is in the form of direct loans. 
For more details about federal aid eligibility and the different types of aid available for graduate and professional studies visit: studentaid.gov/.
Graduate assistantships
Saint Martin's University offers a limited number of Graduate Assistantships to graduate students. Contact the Office of the Provost for more information.
Post-graduate School Administrator Certification Requirements
Applicants are encouraged to have had at least three years of relevant work experience in the field of education. Other work experience with students is considered on an individual basis. All applicants must meet the following qualifications:
A baccalaureate degree from an accredited institution
A GPA of 3.0 in undergraduate studies and/or previous graduate work
Certification as a teacher or ESA in the state of Washington or comparable certification from another state
Letter of support from your district for internship placement
The program requires 21 credit hours of course work.
How long does the school administrator certificate program take?
Students entering the program with a Master's can complete the required coursework and internship in one-year starting with the Summer Academy.
How much does it cost to attend?
For general information regarding cost of attendance, please see the tuition and fees page.
There is a Summer Academy Scholarship for students who are accepted into the program and apply for the scholarship. The scholarship reduces the regular tuition charge to $700 per credit for the Summer Academy. This scholarship is not available to students who are receiving other tuition discounts.
What if I don't have a master's?
Students without a master's can apply for the MED Program with a concentration in school administration. This pathway generally takes two years to complete. See the MED website for additional information.
Do I have to come Saint Martin's University every week?
No, the program is designed to meet the needs of working professionals. The Summer Academy is offered as a hybrid format with some on-campus classes. Fall and spring semester, students are required to come to campus 7 times a semester during the week. The rest of the course content is conducted online. Students are expected to have access to technology and participate in an online class environment. See the program schedule page for a suggested schedule of classes.
Are there requirements to come to Saint Martin's University on the weekends?
No, classes are not scheduled for school administration students on the weekends.
What is the class size?
Classes are purposely kept small so that students can engage in collaborative learning activities with their colleagues and instructors can offer strong support for students' success.
What are the employment opportunities?
The Association of Washington School Principals posts current offerings. Those candidates open to relocating can often secure an administrator position more quickly.
How much does a School Principal make in Washington?
The average School Principal salary in Washington is $123,784 as of May 2023, but the range typically falls between $109,336 and $139,251. Salary ranges can vary widely depending on the city and many other important factors, including education, certifications, additional skills, the number of years you have spent in your profession. Source:  https://www.salary.com/research/salary/benchmark/school-principal-salary/wa
Do I have to be a Catholic to attend Saint Martin's University?
The University welcomes people of all beliefs.
Is the program accredited?
Saint Martin's University is regionally accredited by the Northwest Commission on Colleges and Universities. The State of Washington Professional Educator Standards Board reviewed Saint Martin's University and in a letter dated March 18, 2013 granted full approval for the Residency Principal and Program Administrator Program.
What if I have more questions?
Contact the Office of Graduate Studies at gradstudies@stmartin.edu, or the School Administration Program Director at pharvey@stmartin.edu.
Post-graduate School Administrator Certification

at a Glance
Degree

Certificate
Program Type

Certificate
Campus

Main (Lacey)
Type of Instruction

In Person
Online
Resources