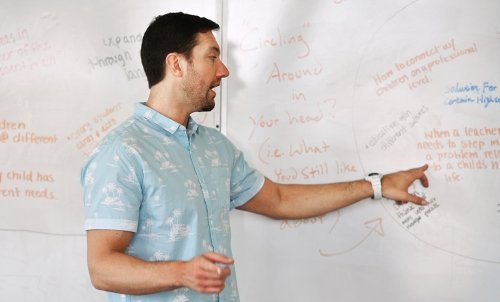 Undergraduate
Minors in Education
An education minor allows students to explore the educational field as a compliment to their intended professions. With a background in any one of our four minors, a student's opportunity for engagement as a non-professional educator is enhanced.
Why Saint Martin's University?
The College of Education and Counseling offers four minors including:
Education*
Physical education
Reading
Special education
Note: The reading and special education minors are normally completed along with a Bachelor of Science in Education program to meet endorsement requirements. Please see an education faculty advisor for special advising if you wish to minor in reading or special education and are not planning to earn certification. Completing only a minor in the education department does not satisfy the state requirements for teacher certification.
*Secondary education students normally pursue the minor in education.
Program highlights
Saint Martin's offers a blend of traditional and contemporary preparation within all our education programs. A faculty of working professionals provide a balanced foundation that honors the roots of education as a profession while inspiring students to subscribe to a progressive spirit. As a result our graduates fit comfortably into a variety of educational cultures.
Additional benefits include:
National accreditation
Approved by the Washington State Board of Education
97% of our graduates find teaching jobs
Study abroad opportunities open doors to teaching internationally
Top employers includes public schools in Washington, Hawaii and California
Require two subject endorsements to better prepare students for employability
Educational endorsements aligned with most majors offered on campus
Ongoing experience in schools throughout the program
Faculty are experienced educators with practical teaching experience
Focus areas include STEM, Special Education and English Language Learning
Minors in Education Requirements
Lower-division courses (6 credit hours)
ED 204: Introduction to Education
ED 205: Child and Adolescent Development
Upper-division courses (9 credit hours)
SED 359: Introduction to Exceptionality
ED 306: Curriculum and Instruction
ED 362: Educational Law and Issues of Abuse
Plus two courses chosen from:
ED 360: Classroom Management
ED 312: Classroom Technology
ED 470: Classroom Assessment
Lower-division courses (2 credit hours)
Two credit hours selected from: PE 202, PE 203 or PE 204
Upper-division courses (18 credit hours)
PE 301: Foundations of Physical Education (3)
PE 310: First Aid and Athletic Injuries (3)
PE 345: Psychology and Philosophy of Coaching (3)
PE 400: Kinesiology (3)
PE 401: Exercise Physiology (3)
PE 430: Organizational Administration of PE, Intramurals and Intercollegiate Sports (3)
Upper-division courses
ED 437: Methods of Teaching Intermediate Literacy  -OR-  ED 468 Secondary Literacy (3)
ED 438: Literature for Children and Young Adults (3)
ED 474: Methods of Teaching Primary Literacy (3)
ED 475: Reader-Writer Workshop (3)
ED 477: Reading Diagnosis (3)
ED 479: Reading Practicum (3)
ED 481: Issues and Trends in Literacy Instruction (3)
Upper-division courses (21 credit hours)
SED 359: Introduction to Exceptionality (3)
SED 461: Instructional Methods of Exceptional Learners (3)
SED 463: Management Strategies for Exceptional Learners (3)
SED 465: Transition to Adulthood for Exceptional Learners (3)
SED 466: Assessment in Exceptional Learners (3)
SED 467: Legal Issues and the IFSP/IEP (3)
SED 469: Seminar and Practicum in Special Education (3)
Minors in Education

at a Glance
Program Type

Minor
Campus

Main (Lacey)
Type of Instruction

In Person
Resources