Julie (Seok Young) Moon, Ph.D.
Julie (Seok Young) Moon, Ph.D.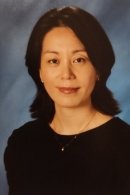 Assistant Professor, Education
Old Main 471
5000 Abbey Way SE
Lacey, WA 98503
Education
Ph.D., Multicultural Special Education, University of Arizona
M.A., Teaching English to Speakers of Other Languages, Oklahoma City University
B.A., English Literature/Anthropology, Hanyang University, Korea
Background
Dr. Moon's objective as an educator and researcher has been to help students with diverse backgrounds develop a positive self-identity, which in turn will lead to building a healthy community where all members in the society feel respected and valued. Dr. Moon has worked as an English language instructor and director in private/public institutes (K-12) and colleges in Korea and the U.S., and taught Math and Science in middle school and high school settings. Her teaching experience made her aware of how the language barrier and cultural differences could hinder culturally diverse students' academic and social performances. This experience has shown her the importance of people, especially teachers, having multicultural sensitivity and an understanding of their diverse students. Her scholarly research interests are focused on teacher education preparation for diverse populations, including the cultural and linguistic dimensions of learning and behavior differences in children. Dr. Moon enjoys hiking, reading, playing musical instruments, and learning new things.