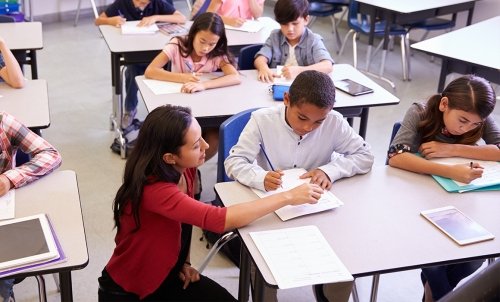 Undergraduate
Elementary Education
Looking for a career that empowers you to shape and instill the love of learning in future generations? Elementary education may be the best major for you.
Why Saint Martin's University?
The elementary education program at Saint Martin's explores the field of elementary education for the purposes of advanced study in pursuit of a residency teaching certification with a primary endorsement in elementary education (kindergarten-8) by the state of Washington. The program is offered as a major at the undergraduate level, and a pathway to certification at both the post-baccalaureate and master's levels.
The education programs at Saint Martin's interweave with one another, providing students with a wide spectrum of choice and flexibility. From the outset, education students participate in in-depth school and practicum work allowing them to interact with local teachers and principals. Faculty are professional educators with extensive, contemporary, real-world experience. Their knowledge in the field of education is coupled with skills in counseling, creating a climate of compassionate rigor. Our reputation for excellence so precedes us that 97 percent of our graduates find teaching jobs after graduation.
Additional benefits include:
National accreditation
Approved by the Washington State Board of Education
Study abroad opportunities open doors to teaching internationally
Two subject endorsements required to better prepare students for employability
A rigorous educational environment in which faculty members work closely with their students
Top employers includes public schools in Washington, Hawaii and California
Elementary Education Requirements
Students must apply to the College of Education and Counseling's elementary education program before taking any education courses at the 300 level and up. This is a Washington State requirement. Information on the application process can be obtained from the College of Education and Counseling main office in Old Main 476.
To ensure proper sequencing of courses, students planning to enter the program must consult an advisor from the College of Education and Counseling prior to registering for any Saint Martin's courses.
Students pursuing certification at the elementary level while also completing a bachelor's degree at Saint Martin's University must complete the following major requirements.
Details on courses, including university core requirements, can be found in the academic catalog.  
33-35 credit hours of required pre-professional courses (some courses overlap with University core requirements)
22 credit hours of certificate core courses
25 credit hours elementary methods course
12 credit hours of internship courses
In addition to getting an endorsement in elementary education, students must complete at least one additional endorsement. This is required of all of our students at every level. 
Learn more about endorsements for certified teachers
Elementary education
To receive a P-8 endorsement, a candidate must complete all required courses and be verified for program completion for a residency teaching certificate with an endorsement in elementary education, including passing state required exams.
Secondary education
In addition to the elementary education endorsement in, candidates are required to complete at least one additional endorsement in a second endorsable area. The additional endorsement may be earned either at Saint Martin's University or elsewhere. Depending on the endorsement area, and with careful planning, this second endorsement may require only 14 or 15 credit hours.
Elementary Education

at a Glance
Degree

Bachelor of Arts
Program Type

Major
Campus

Main (Lacey)
Type of Instruction

In Person