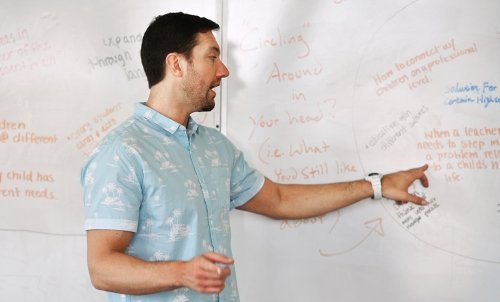 Graduate
Master of Education
The MED program offers specialization strands in: Advanced teaching and learning, English language learner (ESL), principal/program administrator, reading and literacy, and special education.
Why Saint Martin's University?
An education degree from Saint Martin's University opens doors because of the stellar reputation of our program and our graduates. We've designed our schedule to work with yours, and with the only non-cohort based program in the area, you won't be locked into a fixed schedule. We currently offer our MED program on our Main campus in Lacey, and the special education and English language learner strands are also offered at our location on Joint Base Lewis McChord (JBLM).
Federal aid
Federal financial aid is available for graduate students who will be enrolled at least half time and are citizens, or eligible non-citizens, of the USA. Most federal aid for graduate students is in the form of direct loans. 
For more details about federal aid eligibility and the different types of aid available for graduate and professional studies visit studentaid.gov.
Graduate assistantships
Saint Martin's University offers a limited number of graduate assistantships to graduate students. Contact the Office of the Provost for more information.
Master of Education Requirements
A total of 32 to 41 credit hours are required for the degree, depending on the strand and exit option chosen.
The MED program has four components that students must complete in order to earn their degree: core requirements, advancement to candidacy, specialization strands and electives, and exit options.
Required courses (11 hours)
MED 559: Intro to Exceptionality (2)  -OR-  MED 561: Instructional Strategies for Exceptional Learners (2) (Your advisor will guide the selection based on your previous coursework.)
MED 601: Educational Research Methods I (3) 
MED 605: Diversity and Social Context in the Classroom: Theory & Practice (3) 
MED 607: Foundations for Educational Practice (3)
A student working toward a Master of Education degree must apply for and be accepted as a degree candidate.
To be a degree candidate, the student must meet the minimum requirements below and the student's advisor must recommend him or her for advancement to candidacy. Students must also submit a signed Application for Admission to Candidacy Form to the College of Education and Counseling.
Completion of 15 credit hours of graduate study
Good academic standing
Minimum GPA of 3.0
Completion of MED 601 or enrollment in the class during the semester the application is submitted
Formation of the supervisory committee
Strands
Advanced teaching and learning: 18 strand credits, 32-36 total credits
English as a second language / English language learner:  18 strand credits, 32-36 total credits
Principal/program administrator: 21 strand credits, 35 to 41 total credits
Reading and literacy: 18 strand credits, 32 to 36 total credits
Special Education: 18 strand credits, 36 total credits
 
Detailed course listings for strands and electives can be found in the graduate academic catalog.
The MED program offers a thesis or non-thesis option for the completion of the degree.
Thesis or Project
(3 credit hours)
Written thesis or project with oral defense.
Non-thesis
(3 to 6 credit hours)
Capstone Course - MED 698: Integrating Theory and Practice in Education (3 credit hours)
one additional graduate-level elective course in education for a minimum of 36 allowable credits
What are the differences between the MED and the MIT program?
The MED program is designed for educators who already have a teaching credential and are looking for a master's degree to further develop their skills and knowledge. The MIT program is designed for those looking to become certified as teachers while earning a master's degree.
Can credits from another university be transferred to the MED program?
Nine semester hours of graduate work may be taken at another institution and transferred, provided the work fits the program plan, is recommended by the program advisor and is approved by the director of master's programs in education. Students applying for admission to the program may request to have prior graduate study considered for transfer into the program.
Master of Education

at a Glance
Degree

Master
Master (4+1)
Program Type

4+1 Accelerated
Master's Degree
Campus

Main (Lacey)
Type of Instruction

In Person