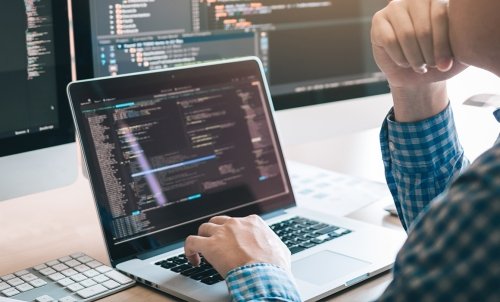 Graduate
Master of Science in Computer Science
Master of Science in Computer Science
The Master of Science in Computer Science (MSCS) at Saint Martin's is focused on providing graduates the necessary skills to be successful in computer science and information technology jobs. Students will develop skills in the areas of Databases, Software Engineering, Cyber Security, Artificial Intelligence, Big Data, and Data Analysis.
Why Saint Martin's University?
Program is adaptable to both recent graduates and engineers with professional experience
Classes are offered in late afternoon or evening to meet the needs of working professionals
Coursework includes courses focused on software development (including mobile apps, video games, and cloud), data science (big data, machine learning, data mining) and security
Build your professional network with professors and colleagues from all branches of technology and engineering and a campus near major technical centers 
High quality lab facilities and tools for students
Federal aid
Federal financial aid is available for graduate students who will be enrolled at least half time and are citizens, or eligible non-citizens, of the USA. Most federal aid for graduate students is in the form of direct loans. 
For more details about federal aid eligibility and the different types of aid available for graduate and professional studies visit studentaid.edu.gov.
Graduate assistantships
Saint Martin's University offers a limited number of graduate assistantships to graduate students. Contact the Office of the Provost for more information.
Master of Science in Computer Science Requirements
Graduate students must satisfactorily complete 30 credit hours of approved coursework, including three credit hours of Advanced Design and Research Project (CSC 598) or six credit hours of Thesis Research (CSC 599). A maximum of six credit hours of Directed Study (CSC 597) is allowed. 
For fully qualified students, the MSCS program provides two options for completing the degree requirements: Project or Thesis.
The official, most up-to-date class offerings can be found by using Self-Service or the graduate academic catalog. For significant term dates refer to the academic calendar.
The thesis route requires students to pursue research supported by the Department of Computer Science. A fully qualified student may complete a Master's thesis route by undertaking 24 credit hours of coursework as well as 6 credit hours of thesis research together with the thesis defense.
A fully qualified student may complete a Master's project route by undertaking 27 credit hours of coursework, 3 credit hours of professionally oriented project research, presentation and defense.
Master of Science in Computer Science

at a Glance
Degree

Master
Master (4+1)
Program Type

4+1 Accelerated
Master's Degree
Campus

Main (Lacey)
Type of Instruction

In Person