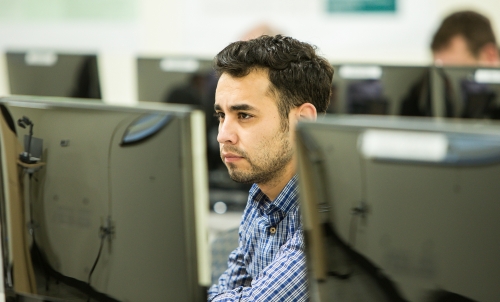 Certificate & Non-Degree
Washington Vets to Tech (WaV2T)
Washington Vets to Tech (WaV2T)
The 16-week Washington Vets to Tech certificate program provides computer science and information technology education, training, and professional development to active-duty service members in their last 6 months of service, veterans with an honorable or general discharge, and spouses of active-duty military or eligible veterans. Sessions begin each August, January and May.
Why Saint Martin's University?
There are three sessions for this 16-week program. Sessions for both the WaV2T and WaV2T Advanced Certificate run concurrently in the Fall (August to December), Spring (January to May), and Summer (May to August).
The first semester WaV2T program is in-person at our Lacey campus and JBLM classroom.
The optional second semester WaV2T Advanced Certificate is fully remote with classes delivered synchronously and the internship schedule negotiated with the organization. 
Program highlights
Available to active duty service members in their last 6 months of service; veterans with an honorable or general discharge; and spouses of active duty military or eligible veterans.
Earn a certificate in Computer Science that carries college credit, is regionally accredited, and is in demand by employers
Prepare for industry certification exams (Network+/Security+)
Prepare for Linux Essentials certification exam
Prepare for Microsoft Certified Professional certification exams. Exam vouchers provided for:

AZ-900 Microsoft Azure Fundamentals
AZ-104 Microsoft Azure Administrator
AZ-204 Developing Solutions for Microsoft Azure

Train on the largest cloud providers, AWS and Azure, through Microsoft's Imagine Academy and Amazon's AWS Academy
Classes offered on the Lacey campus and at Joint-Base Lewis McChord

Full-time, in-person delivery Monday to Friday, 8:00am to 5:00pm
Small class sizes
Instructors with technology industry backgrounds

Professional development provided throughout the program for resumes, interviews, and job searching. Support is continued after graduation until employment.
Some current hiring partners include Amazon, Microsoft, Google, and many others
Optional advanced certificate in IT Operations with a paid internship and additional courses 
MSSA graduates eligible to apply for the Advanced Certificate track
Funding and financial aid
Four months of GI Bill benefits used per program track
Post 9/11 GI Bill 
Montgomery GI Bill  
Other funding options include
VR&E Ch. 31
Substantial scholarships available for those without VA funding   
It is recommended that students apply for their GI Bill Certificate of Eligibility (CoE) no later than 30 days before their term start date. You can apply for your CoE and find more information here. If you have additional GI Bill questions, please email Mercedes Garrido at mgarrido@stmartin.edu or call Veterans Affairs at 888-442-4551, Monday through Friday, 5:00am to 4:00pm PT/8:00am to 7:00pm ET.
Active Army soldiers may be eligible for AER assistance to cover costs relating to:
Travel expenses (airfare or fuel)
Uniforms/business attire
Tools/CSP training supplies
Lodging
Utilities​
Food​
To apply for an AER grant or to learn more, Soldiers may contact their local AER officer or, in the event a local office is inaccessible or located farther than 50 miles away, please contact AER headquarters at assistance@aerhq.org.
Tuition and fees
2022-2023 | Fall 22 through Summer 23
Tuition: $20,830
Fees: $750*
Optional housing: No cost for active duty, $2,800 for veterans or military spouses. All applicants pay a $200 refundable deposit.
WaV2T students staying on campus are not required to purchase a meal plan.
*Fees may differ by pathway. Subject to change as course materials are updated. GI Bill covers tuition and fees.
Residence halls
If you are flying or driving to Washington state, or would like to stay in the residence halls for any reason, all applicants must pay a $200 refundable deposit. It is recommended at that you apply for housing no later than 30 days prior to the start date of the term. Start your housing application here.
Active duty
Room in residence halls are available at no cost
Barracks rooms available on JBLM
Veterans and spouses
$2,800 per semester
GI Bill MHA rate calculated with zip code 98503
Resources
Saint Martin's Center for Student Success
Offers individualized coaching for writing, student success workshops, and peer tutoring in a variety of subjects. Many of these services are also available through email so be sure to check out what they have to offer.
Saint Martin's Diversity and Equity Center
The Diversity and Equity Center (DEC) of Saint Martin's University is committed to fostering an inclusive, supportive and equitable learning environment for all members of the campus community.
Saint Martin's Veterans Center
Find support, resources and community in our main campus Veterans Center.
Location:  Harned Hall, 211;  (Vet Corps Navigator's office is 211A)
Hours:  Monday to Friday, 8 a.m. to 8 p.m.
Saint Martin's Disability Support and Accommodations
Saint Martin's Disability Support Services (DSS) embraces the Benedictine value of hospitality when providing students with disabilities with access to reasonable accommodations, advocacy and academic support services. 
VA Center for Women Veterans (CWV)
The Center for Women Veterans' (CWV) mission is to monitor and coordinate VA's administration of health care, benefits, services, and programs for women Veterans.
Contact information
Questions?
Request information
Email wav2t@stmartin.edu
Call (360) 688-2970
Text (360) 252-9265
Join us every Tuesday for an information brief and Q&A at 9:30 a.m. or 3:00 p.m. PT via Microsoft Teams.
Schedule a campus tour here.
Or take a virtual tour here.
Coronavirus information
Find updates about COVID-19 response here
Visit the COVID-19 FAQ for additional information about university guidelines
Washington Vets to Tech (WaV2T) Requirements
Saint Martin's offers the option of two 16-week certificate tracks (SCA and CAD), for which there are three cohort opportunities each year:
Spring (January to May)
Summer (May to August)
Fall (August to December)
and a third optional advanced track upon completion of one of the other two:
Server Cloud Administration (SCA)
Focus on networking fundamentals, operations, troubleshooting, security, cloud computing, hardware
Careers include junior network administrator, datacenter support technician, network engineer, system administrator, and more
AZ-900 Microsoft Azure Fundamentals (exam voucher provided)
AZ-104 Microsoft Azure Administrator (exam voucher provided)
Cloud Application Development (CAD)
Focus on python, C#, SQL, web development using HTML5, CSS3, JavaScript/ASP.NET; data structures and algorithms, developing cloud solutions
Careers include cloud application developer, software engineer, application software developer, full stack engineer, and more
AZ-900 Microsoft Azure Fundamentals (exam voucher provided)
AZ-204 Developing Solutions for Microsoft Azure (exam voucher provided)
Take a detailed look at courses in each pathway and key focus areas here.
Advanced Certificate
Want more hands-on experience before entering the workforce? We offer an optional 16-week Advanced Certificate pathway following the first semester. Open to graduates of the Washington Vets to Tech (WaV2T) Server & Cloud Administration or Cloud Application Development cohorts, and MSSA graduates. In the program you: 1) Earn an advanced certificate in IT Operations, 2) Work at a paid internship, 3) Take advanced academic courses with a cybersecurity focus.
Continuation of the SCA and CAD pathways, includes a 16-week paid internship and advanced courses, and earns an additional 12 credits. Students earn an advanced certificate in IT Operations upon successful completion. 
Internships available nationwide
Remote synchronous classes
Prerequisites

Application
Resume and cover letter
Completion of the WaV2T SCA or CAD pathways
MSSA graduate with graduation certificate or letter verifying that you are on track to graduate provided by Microsoft
Term: Fall 2022
Program Dates:  August 29 to December 16, 2022
Application Deadline:  August 19, 2022
Term: Spring 2023
Program Dates:  January 9 to May 5, 2023
Application Deadline:  December 14, 2022
Term: Summer 2023
Program Dates:  May 8 to August 18, 2023
Application Deadline:  April 28, 2023
Application
Start an application to apply for the WaV2T program. 

After starting a WaV2T application, fill in the required information and then select if you are applying for the first semester SCA or CAD pathway, or if you are a WaV2T or MSSA graduate applying to the second semester Advanced Certificate.

You can start an application any time. You may contact us any time to change your term or pathway
Please note that your desired Advanced Certificate pathway must match your previously attended pathway.
Proof of Service
Upload your proof of service to your application, this is required to prove your eligibility for the program. 
Veterans: DD-214 member 4 copy
Active Duty: SRB/ERB/ORB/SURF/BIR depending on branch of service for active duty. We will also accept a Statement of Service memorandum signed by your commanding officer
Military Spouses: Proof of marriage to the service member, and documents verifying the service member's active duty or veteran status (documents listed above for active duty and veterans, orders, or DEERS record) 
Math Verification
Saint Martin's University MTH 101—Intermediate Algebra is the math prerequisite. WaV2T Admissions will evaluate your unofficial transcript to determine if you meet the math prerequisite. If you do not, you can take the math placement exam or you can take a math course that meets this prerequisite. If you plan to take the math course with a school other than Saint Martin's, email the school name and course number to WaV2T@stmartin.edu to verify the class meets the prerequisite.

Unofficial transcripts: Request unofficial transcripts from any college/university you have attended where you earned a College Algebra level math credit, or any higher-level math, with a grade of C or higher. Upload to your application or email to: WaV2T@stmartin.edu.
Math placement exam: If we determine you do not meet our math prerequisite or you do not have college transcripts, we will provide access to our no-cost online math placement exam to meet this prerequisite.
Pre-program Interview
After all prerequisites are met, the final step is the pre-program behavioral interview. Applicants will not receive a seat in the class until the pre-program interview is complete and they receive the official acceptance letter. We prioritize interviews by the next upcoming term, and we will reach out to you directly to schedule the interview.
Active duty applicants who are accepted into the program but are still pending CSP/Skillbridge approval will receive a conditional admit, and will be granted a full admit when we receive an emailed copy of the approved CSP/Skillbridge form. This must be complete and submitted by the application deadline.
Active duty applicants:
Must be within 180 days of their end-of-service date on the start date of the program to be eligible to participate in the program.
May apply with Saint Martin's and start the CSP/Skillbridge command approval process at the same time.
Do not require CSP/Skillbridge approval if on terminal leave at the start date of the program.
JBLM
Service members stationed at JBLM must attend the CSP briefing to begin the command approval process. 
CSP in-person briefings are held every Monday at 12:00pm in the Hawk Center, North Fort, Bldg. 11577 JBLM, WA 98433
CSP Virtual briefings are held Thursdays at 3:00pm via Zoom.
Please contact the CSP representative for appointments: usarmy.jblm.imcom.list.dhr-tap-outreach@army.mil.
Other locations
For service members not located at JBLM, contact your local CSP or Skillbridge representative to initiate the process. If you do not have a local CSP representative, contact the JBLM CSP team at usarmy.jblm.imcom.list.dhr-tap-outreach@army.mil. You should not require an acceptance letter to start the CSP/Skillbridge application process, you can apply to SMU and start the command approval paperwork at the same time. 
If accepted into the program, you will be granted a conditional admit until the CSP/Skillbridge program request is approved by your program coordinator and commander. Service members must upload a copy of approval to their application or email a copy as an attachment to WaV2T@stmartin.edu.
Washington Vets to Tech (WaV2T)

at a Glance
Degree

Certificate
Program Type

Certificate
Campus

Main (Lacey)
Saint Martin's-JBLM
Type of Instruction

In Person