Stalina Harris, Ph.D., NCC, LPC
Stalina Harris, Ph.D., NCC, LPC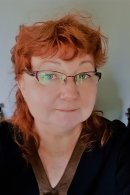 Assistant Professor, Master of Arts in Counseling (MAC) Program
Education
M.Ed., Birobidzhan State Pedagogical Institute of Russia; M.C, Argosy University of Chicago; Ph.D., Walden University
Dr. Stalina Harris is originally from Russia and has lived in the USA for the last 14 years. Before accepting the faculty position with Saint Martin's University, she resided in Western Illinois. She has traveled around the world and used her traveling experience as a learning opportunity. Dr. Harris started her career as a music teacher at the musical college in Russia and was a conductor of orchestra for nine years. When she decided to change careers, she received a Master's in Educational Psychology from Birobidzhan State Pedagogical Institute in Russia. She had a private practice and worked with various populations including but not limited to couple counseling, anxiety, depression, and suicidal ideations. Her main focus was on working with clients with traumatic brain injury (TBI). She worked together with a neurologist to explore the effects of brain trauma on human behavior and developed a rehabilitation program for clients recovering from TBI.
When Dr. Harris arrived in the United States, her Russian credentials were of little consequence. Thus, she received a Master's in Community Counseling from Argosy University, Chicago campus. Later, she received her Ph.D. in Counselor Education and Supervision from Walden University. She worked with various populations in different settings: as a therapist-intern at the residential facility for adolescent males with harmful sexual behaviors in Illinois, as a crisis response supervisor at the community agency, and as a clinical therapist at the high security treatment and detention facility for sexually violent persons (SVP).
Her research interests include burnout of mental health clinicians, multiculturalism, a supervisory working alliance, and program evaluation.
Dr. Harris is a Nationally Certified Counselor (NCC) and a Licensed Professional Counselor (Illinois).