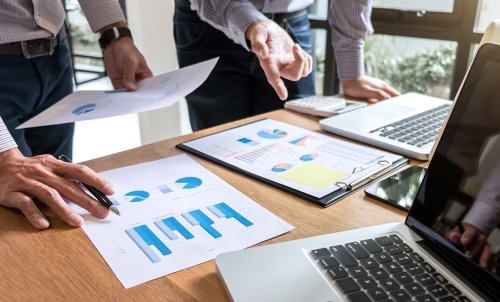 Graduate
Master of Accountancy
The Master of Accountancy (M.ACC.) program at Saint Martin's provides students with professional knowledge of complex topics in accounting, tax, audit, business, and ethics. Courses will emphasize understanding and application of accounting principles and theories, incorporate professional ethics and support professional certification.
Why Saint Martin's University?
The program operates year-round
The program consists of 30 semester credits and can be completed in 12 months by taking two (2) courses per term
All classes are offered in the evening to accommodate working students
Identify and research accounting principles and theories
Critically analyze and interpret accounting data
Become proficient in using accounting tools to make business decisions
Present information in professional written and oral communications
Federal aid & graduate assistantships
Federal aid
Federal financial aid is available for graduate students who will be enrolled at least half time and are citizens, or eligible non-citizens, of the USA. Most federal aid for graduate students is in the form of direct loans. 
For more details about federal aid eligibility and the different types of aid available for graduate and professional studies visit studentaid.gov.
Graduate assistantships
Saint Martin's University offers a limited number of graduate assistantships to graduate students. Contact the Office of the Provost for more information.
Rolling admission and priority deadlines 
The M.ACC. program operates on a five-term-per-year schedule. Applications are accepted on a rolling basis. However, to receive priority consideration for admission and scholarships, applications should be submitted by the priority deadline of the desired session.
Priority deadlines for applications
Students can start the program in fall, spring or summer. The following are priority deadlines for application for each of the five starting terms.
Fall 10 (August – October) -- July 15
Fall 11 (October – December) -- September 1
Spring 10 (January – March) -- December 1
Spring 11 (March – May) -- February 1
Summer (May – August) -- April 15
Master of Accountancy Requirements
The program consists of 30 semester credits and can be completed in 12 months by taking two (2) courses per term. The official, most up-to-date class offerings can be found by using Self-Service or the Graduate Academic Catalog. For significant term dates refer to the Academic Calendar.
0-15 credit hours of prerequisite courses
12 credit hours of Accounting CORE requirements
6 credit hours of Accounting elective courses
6 credit hours of MBA requirements
6 credit hours of MBA elective courses
Master of Accountancy

at a Glance
Degree

Master
Master (4+1)
Program Type

4+1 Accelerated
Master's Degree
Campus

Main (Lacey)
Type of Instruction

In Person
School
Resources