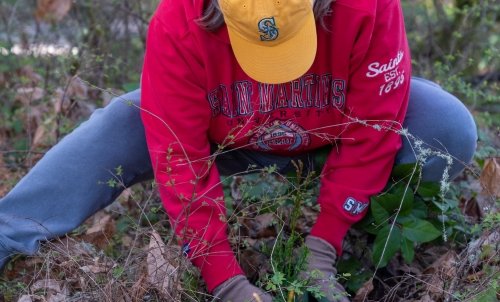 Undergraduate
Environmental Studies
Passionate about protecting Earth's natural resources and paving the way for future generations through protection, research and development? Environmental studies may be the best major for you.
Why Saint Martin's University?
The environmental studies program at Saint Martin's is a truly interdisciplinary program. Students have an opportunity to focus on a Bachelor of Science or a Bachelor of Arts degree. In each of these pathways, students gain experience in a broad spectrum of environmental topics and service learning opportunities.
Students participate in research and internships as a fundamental part of the major.
Individualized tailoring of the student's program of study to prepare them for graduate study, or careers in science and/or policy.
Strong commitment to an interdisciplinary approach with faculty from a variety of areas (Biology, English, Chemistry, Anthropology, History, Business, etc.).
Opportunities for collaborations with local businesses, government agencies, non-profits, and universities.
Proximity to natural resources and conservation sites, with opportunities to examine the interactions and collaborations between public and private organizations focused on environmental issues.
What to Expect at Saint Martin's
The Environmental Studies program at Saint Martin's incorporates the Benedictine tradition of creating sustainable communities of peace for 1500 years, and benefits from our close proximity to the Washington State Department of Ecology and the state government in Olympia. We are also able to take advantage of the natural resources located immediately on our campus and close by in Western Washington.
The B.S. track is a degree centered in Biology and the fundamental scientific processes governing the environment. The degree is rooted by a broad selection of courses in ethics, service learning, social science, economics, policy, and mathematics. Additional tracks may be designed in both chemistry and mathematical modeling.
The B.A. track is a degree centered in policy and social justice issues surrounding the environment. Students receive a critical foundation in science concepts and an expansive selection of electives allows a student to focus on areas of ethics, service, economics, policy, or food sustainability.
Environmental Studies Requirements
Details on courses, including university core requirements, can be found in the academic catalog.  
16 credit hours of lower-division courses
15 credit hours of upper-division courses
21 credit hours of elective courses
Details on courses, including university core requirements, can be found in the academic catalog.  
34 credit hours of lower-division courses
16 credit hours of upper-division courses
15 credit hours of elective courses
7 credit hours of lower-division courses
12 credit hours of elective courses
Climate change
Global environment politics
Environmental humanities
Environmental law
Environmental social issues
Environmental Studies

at a Glance
Degree

Bachelor of Arts
Bachelor of Science
Program Type

Major
Minor
Campus

Main (Lacey)
Type of Instruction

In Person
School
Resources