Greg Milligan, Ph.D.
Greg Milligan, Ph.D.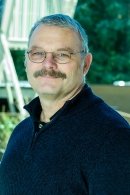 Professor, Chemistry
​Ernsdorff Center 134
5000 Abbey Way SE
Lacey, WA 98503
Areas of Expertise
Organic Synthetic Methods Development
"Green" Reagents
Education
Post-doctoral Fellow, Department of Medicinal Chemistry, University of Kansas
Ph.D., University of Washington
B.S., University of Oregon.
Areas of interest (professional/personal):
Dr. Milligan's research interest is in organic synthetic methods development. Specifically, he is interested in the development of "green" reagents and techniques to replace traditional methods which have proved to be environmentally problematic. Dr. Milligan is also involved in a collaborative effort with the biology department to isolate and identify active principles of traditional native plant remedies.