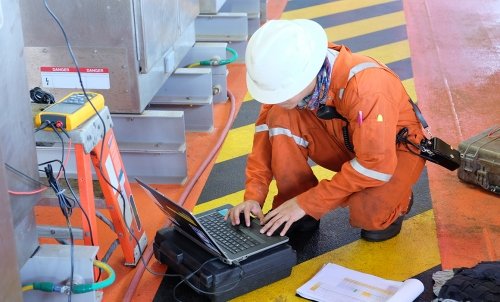 Undergraduate
Electrical Engineering
Electrical Engineering is a broad field that includes power systems, control systems, microelectronics, microprocessors, computer networks, telecommunications (wire, wireless, satellite and fiber optic), remote sensing, signal processing, neural networks, medical devices, optics (electro-optics, optoelectronics and photonics) and other emerging technologies. The minor in Electrical Engineering is intended for students who major in related fields and are interested in learning Electrical Engineering to enhance their major.
Why Saint Martin's University?
Engineering at Saint Martin's is growing. An exemplary faculty and strong focus on the undergraduate experience is being coupled with new infrastructure and new technology. Cebula Hall (built in 2013) --  home to the School of Engineering -- is the most energy efficient building with LEED Platinum Certification in the Western Hemisphere. Engineering students are exposed to a broad range of topics that give them the facility to adapt to an ever-changing professional environment.
Careers
The variety of an electrical engineer's work can range from the smallest integrated circuit to power systems that cover entire states. Because of the broad nature of the field, electrical engineers are involved in a wide range of engineering design projects and they must be able to employ knowledge from other disciplines in electrical engineering designs. They must also be prepared to support engineers in other disciplines. As we progress through the 21st century, the technology that surrounds us will continue to expand and electrical engineers are leading the way.
For a complete list of professional applications, visit What Can I Do With This Major?. For additional information about how Saint Martin's can help you find the career for you, visit our Center for Career and Calling.
Electrical Engineering Requirements
Required courses (7 credit hours) 
EE/ME 316: Mechatronics and Measurement Lab
EE/ME 345: Mechatronics
CSC 101 or 180: Introduction to Computer Science or Introduction to Programming
Approved elective courses (11 credit hours)
EE 458: Electronics I
EE 477: Embedded Computing in Electromechanical Systems
ME 370: Systems Analysis and Design
EE 433: Photovoltaics Systems Engineering
ME 454: Robotics and Automation
EE 488: Electromechanical Machines
EE 497: Directed Study
Electrical Engineering

at a Glance
Program Type

Minor
Campus

Main (Lacey)
Type of Instruction

In Person