Julia McCord Chavez, Ph.D.
Julia McCord Chavez, Ph.D.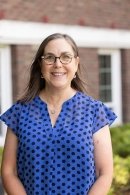 Professor, English
Old Main 312A
5000 Abbey Way SE
Lacey, WA 98503
Areas of Expertise
British literature
Nineteenth century print culture
Education
Ph.D., University of Wisconsin-Madison
M.A., University of Wisconsin-Madison
J.D., Indiana University School of Law-Bloomington
B.A., DePauw University
Biography
Julia McCord Chavez, Associate Professor of English, specializes in nineteenth-century British literature, Victorian print culture, and composition studies. Her research and teaching interests include transatlantic studies, gender studies, and the field of law and literature.
Chavez's wide-ranging interests have grown out of her diverse education and training. A native Midwesterner, she received her B.A., magna cum laude, from DePauw University in Greencastle, Indiana, with a major in English and minors in art history and anthropology. A deep commitment to social justice next led her to earn a J.D., magna cum laude, from Indiana University School of Law-Bloomington. After working in the legal publishing field for several years, Chavez returned to her original passion — English literature — at the University of Wisconsin-Madison, where she received her M.A. and Ph.D. in Literary Studies with a major concentration in nineteenth-century British literature and a minor concentration in art history and material culture. Her doctoral work examined Victorian fiction that was serialized (and thus released in installments over time) and the relationship between partial publication and reading practices that promote critical consciousness, especially for female readers.
Interdisciplinarity is a hallmark of Chavez's classroom. Her teaching of composition and literature seeks to bring texts to life for students through historical, cultural, and aesthetic contexts. Social justice remains a focus for Chavez, as well, whether she is teaching a first-year college writing course on globalization, an upper-division course on the Romantics or Victorians, a dedicated author course on Charles Dickens, or a survey of "Women's Literature" from Mary Wollstonecraft to Margaret Atwood.
Select publications:
Chavez likes to remain active and connected in the scholarly community, and continues to focus her research within the mid-Victorian period. Most recently, she co-edited a Special Issue of Nineteenth Century Gender Studies on the topic of "Law and Gender in Nineteenth-Century England" (summer 2012). Other publications include:
"The Return of the Native as Transatlantic Sensation; or Hardy Sensationalized." In Transatlantic Sensations, edited by John Barton and Jennifer Phegley. Ashgate, 2012. 239-56.
"Charles Dickens and Authentic Happiness: Theorizing the Good Life in a Materialistic World," Victorians Institute Journal-Digital Annex (January 2012).
"The Gothic Heart of Victorian Serial Fiction," SEL: Studies in English Literature 50.4 (Autumn 2010): 791-810.
"Wandering Readers and the Pedagogical Potential of Temple Bar," Victorian Periodicals Review 40.2 (Summer 2007): 126-50.
Areas of interest (professional / personal)
When Chavez is not teaching or writing, she enjoys hiking, gardening, travelling, and volunteering for crowd-sourced digital humanities projects like Dickens Journals Online and Ulysses meets Twitter 2011. She lives on the east side of Olympia with her husband, daughter, dog, cat, and fish.