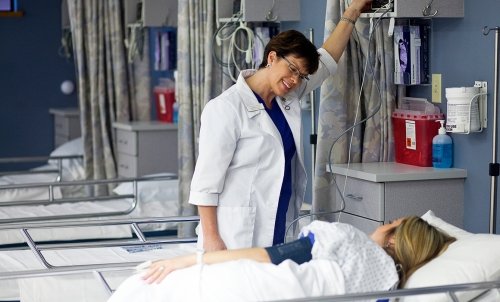 Undergraduate
Public Health
The Public Health minor program at Saint Martin's University is designed for students from a variety of disciplines who wish to augment their major by exploring the key components of public health.
Why Saint Martin's University?
A Saint Martin's University student who earns a minor in Public Health will live out the university core values of faith, reason, service, and community, by being committed to making a positive difference in the lives of others by working to address health disparities and improve the health of the population.  
Program outcomes:
Identify the history, philosophy, and core functions of public health 
Describe the methods and tools of public health data collection, use, and analysis
Describe causes and risk factors for major areas of public health focus
Describe the legal, ethical, economic, and regulatory dimensions of public health policy
Discuss major local, national, and global health challenges
Outline approaches for assessing and controlling environmental hazards that affect community health 
Public Health Requirements
Coursework in the Public Health minor includes foundational courses in Public Health, Statistics, Epidemiology, and electives chosen to broaden the student's knowledge of public health issues including policy, health disparities, nutrition, environmental health, global health, and applied sciences relevant to public health.
The Public Health minor provides applied health content for students seeking admission to dental, medical, pharmacy, physical therapy, and other professional schools. Graduates with a Public Health minor are well situated for graduate studies in psychology, sociology, social work, public health, and related fields.
The Public Health minor consists of 9.0 required credit hours and 12.0 credit hours of electives.
Foundation Courses
PBH 201: Introduction to Public Health
PBH 301: Fundamentals of Epidemiology
Statistics course: MTH 201 -OR-   BIO 301 -OR-  BA 201
Elective Courses (choose 12 credits)
COR 140: World Language
BIO 121: Human Biology with Lab
BIO 141: General Biology with Lab
NUR 203 or EXS 203: Human Nutrition
PLS 151: Politics of US Public Policy
SOC 102: American Social Problems
PSY 343: Health Psychology
NUR 310: Health Policy
PSY 353: Drugs, the Family, and Society
ENV 330: Climate Change
SJ 370: Social Action
SOC 301: Child Welfare
SOC 440: Death, Dying, Grief
BIO 251/351: Microbiology
BIO 352: Advanced Microbiology
BIO 375: Genetics
SOC 302: Sex, Race, and Disability
TRM 400: Trauma: Theories, Ethics, and Impacts
PBH 210: Global Health
PBH 310: Population Health Management
PBH 390: Internship
PBH 395: Topics in Public Health
Public Health

at a Glance
Program Type

Minor
Campus

Main (Lacey)
Type of Instruction

In Person
School