Shawn Duan, Ph.D.
Shawn Duan, Ph.D.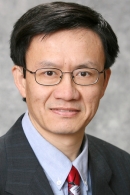 Professor, Mechanical Engineering
Cebula Hall 103A
5000 Abbey Way SE
Lacey, WA 98503
Areas of Expertise
Vibrations
Biomechanics
ABET accreditation
Scholarship of teaching and learning
Fluid power transmission and controls
CAD/CAE
Modeling and simulation on high performance computing systems
Education
B.S., Kunming University of Science and Technology; M.S., Tianjin University; Ph.D., Rensselaer Polytechnic Institute
Dr. Duan has over twenty years of experience in mechanical engineering field. Before joining SMU, he was a full professor and program assessment coordinator of Department of Mechanical Engineering at South Dakota State University. During his tenure at SDSU, he was involved in teaching/advising, research, various services, undergraduate program assessment, scholarship, and ABET accreditation.
His interests include but are not limited to vibrations, biomechanics, ABET accreditation, scholarship of teaching and learning, fluid power transmission and controls, CAD/CAE, and modeling and simulation on high performance computing systems.