Emily Coyle, Ph.D.
Emily Coyle, Ph.D.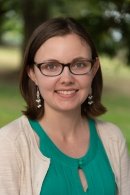 Chair of Psychology
Associate Professor, Psychology
Old Main 401 A/B
5000 Abbey Way, SE
Lacey, WA 98503
"To quote Plutarch, 'The mind is not a vessel to be filled, but a fire to be kindled.' My goal – in the classroom or in the laboratory – is to stoke that fire within all my students."
Areas of Expertise
Developmental psychology with an emphasis on gender development and social cognition
Specialization in research methods and statistics
Education
B.S., Washington & Lee University; M.S., The Pennsylvania State University; Ph.D., The Pennsylvania State University
I am a born-and-raised Pacific Northwesterner. I have also lived in Virginia (for college), Pennsylvania (for grad school), and Wisconsin (for work). I am thrilled to be back in the Pacific Northwest and working at Saint Martin's.
In my research, I study topics related to gender development and early learning, primarily in preschoolers. Students are an integral part of my research team. You can learn more about current projects at my website (above). If you are a student interested in assisting with research in my lab, please stop by my office or send me an email.
Outside of work, I am an avid equestrian. I compete my horse, Discotheque, in show jumping all over the West Coast. My family and I live just down the road from SMU. I love the outdoors (hiking and gardening), experimenting in the kitchen, and cheering on the Seahawks.  
Select publications:
Coyle, E. F. & Liben, L. S. (In-Press). Gendered Packaging of a STEM Toy Influences Children's Play, Mechanical Learning, and Mothers' Play Guidance. Child Development. doi: 10.1111/cdev.13139
Fulcher, M., & Coyle, E. F. (2018). Working at play: Gender-typed play and children's visions of future work and family roles. In E. S. Weisgram & L. M. Dinella (Eds.), Gender-typing of children's toys: How early play experiences impact development. Washington, DC: American Psychological Association.
Liben, L. S. & Coyle, E. F. (2017). Gender development: A relational approach. In A. S. Dick & U. Müller (Eds.), Advancing developmental science: Philosophy, theory, and method (pp. 170-184). London: Routledge; Taylor and Francis Group.
Coyle, E. F., & Liben, L. S. (2016). Affecting girls' activity and job interests through play: The moderating roles of personal gender salience and game characteristics. Child Development, 87, 414-428. doi: 10.111/cdev.12463
Coyle, E. F., Fulcher, M., & Truebutschek, D. (2016). Sissies, mama's boys, and tomboys: Is children's gender nonconformity more acceptable when nonconforming traits are positive? Archives of Sexual Behavior, 45, 1827-1838. doi: 10.1007/s10508-016-0695-5
Coyle, E. F., Van Leer, E., Fulcher, M., & Schroeder, K. M. (2015). Planning to have it all: Emerging adults' expectations for future work-family conflict. Sex Roles, 72, 547-557. doi: 10.1007/s11199-015-0492-y
Liben, L. S. & Coyle, E. F. (2014). Developmental interventions to address the STEM gender gap: Exploring intended and unintended consequences. In L. S. Liben & R. S. Bigler (Eds.), The role of gender in educational contexts and outcomes. In J. Benson (Series Ed.), Advances in child development and behavior (Vol. 47, pp. 77-116). San Diego: Elsevier.
Fulcher, M., & Coyle, E. F. (2011). Breadwinner and caregiver: A cross-sectional analysis of children's and emerging adults' visions of their future family roles. British Journal of Developmental Psychology, 29, 330-346. doi:10.1111/j.2044-835X.2011.02026.x 
Accomplishments:
National Science Foundation Graduate Research Fellowship, 2011-2014
RGSO Dissertation Award, The Pennsylvania State University, 2013
Phi Beta Kappa, Washington & Lee University, 2010
Omicron Delta Kappa, national leadership honor society, Washington & Lee University, 2009
Psi Chi, psychology honors society, Washington & Lee University, 2008
Areas of interest:
Social cognitive development and its impact on aspiration and achievement, particularly in the context of informal settings (e.g., play) and for girls in STEM domains (science, technology, engineering, and math); gender role and stereotype development; individual differences in children's attention to social group categories (i.e., gender); psychological research methods and statistics; intervention evaluation