Br. Boniface Lazzari, O.S.B.
Br. Boniface Lazzari, O.S.B.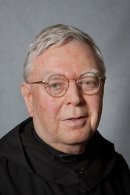 Associate Professor, Spanish
Trustee
Old Main 339
5000 Abbey Way SE
Lacey, WA 98503
Education
M.A., Spanish Language, Universidad Nacional Autonoma de Mexico, Mexico City
B.A., Education, Saint Martin's College, Lacey
S.T.B., Universidad Pontificia Comillas, Madrid
Biography
Brother Boniface V. Lazzari, O.S.B., is a monk of Saint Martin's Abbey. He is also a member of the Board of Trustees and Associate Professor of World Languages at Saint Martin's University. His early education was under the direction of the Franciscan Sisters of Charity and Penance and the French Christian Brothers in his native Sacramento. He received his B.A. in Education at Saint Martin's College (now University), and a Master's in Spanish Language and Latin American Literature from the Universidad Nacional Autonoma de Mexico, Mexico City. His unpublished thesis is "El teatro de Alfonso Sastre." He later lived in Madrid for three years while he studied theology at the Pontificia Universidad Comillas, where he graduated with an S.T.B.
Brother Boniface has a long-standing interest in the arts. He has been director for some years of Abbey Church Events, an annual concert/lecture series sponsored by the monastic community of Saint Martin's Abbey. He also is a two-time past-president of the Board of Directors of the Olympia Symphony Orchestra. Brother Boniface also is the curator of the Abbey's Martin of Tours Collection of Pacific Northwest Art. He has appeared in local productions of Gilbert and Sullivan's "Mikado" and "Pirates of Penzance" as well as Haydn's "Creation" and other choral works.
Brother Boniface enjoys travel, and has traveled in Mexico and Central America, the Caribbean, the United Kingdom, Western Europe and Israel. He practices a pseudo-Ikebana and has some interest in netsukes. Brother Boniface is also an avid reader. A bit of trivia: he is a very distant cousin of Babe Ruth's Yankee teammate Tony Lazzeri.