Passion for law
Passion for law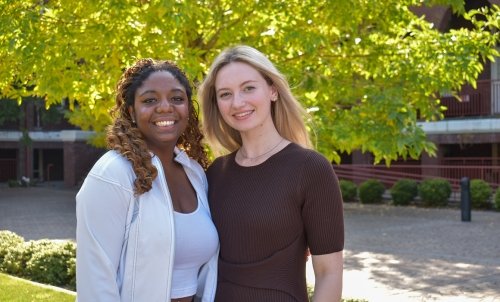 Pre-Law Diversity Fellowship
Ja'Tarya Hoskins and Serena Elliot
Meet Ja'Tarya Hoskins and Serena Elliot. Ja'Tarya (she/her) is a senior from Coupeville, WA. She is majoring in criminal justice with a minor in legal studies. Aside from her academic responsibilities Ja'Tarya is also involved with the Black Student Union (BSU), Criminal Justice Club, Admissions office as a student ambassador, and track & field team. Serena (she/her) is a junior from Ada, OK. She is majoring in political science with a minor in legal studies. Serena's extracurricular activities include working two jobs, one including working on campus in the ITS Office; a member of the Pacific Islanders Club; Psychology Club; and the Garden Club. Ja'Tarya and Serena are both members of the 2022-2023 Pre-Law Diversity Fellowship offered by Davis Wright Tremaine, LLP. 
How did you find out about the fellowship? 
Ja'Tarya: I found out about the fellowship through Shawn Newman because he emailed me about it. There was not a lot of time between receiving the email and the deadline date. The application process had a few questions that they wanted me to answer. I do not remember what the questions asked but they mostly wondered about myself as a student and the achievements that I have accomplished. I finished my application process in one day and sent it in. I wrote them all out on a word document and edited them myself. It did not cost anything to submit my response.   
Serena: I found out about this opportunity through an email from Ann Adams Director of the Career Center, and immediately knew I wanted to apply. The application process was fairly straightforward; I submitted a cover letter and my resume as well as answered a few essay questions. The hardest part of the application process was waiting for a response. This fellowship holds a lot of value for me because outside of mock trial in high school I had no idea about the legal field and the potential challenges even applying for law school holds.  An extremely beneficial aspect of the fellowship is at the end of the fellowship we will gain access to a free LSAT preparatory class which I could not afford on my own. This prep course will help us prepare for the LSAT, a test that will determine our preparedness for law school. Davis Wright Tremain is also allowing us mentors and sessions to help guide us through the process and answer any questions we may have about or involving the legal field and how to get there and for that, I'm very grateful. 
Who has been the most influential person during your time at Saint Martin's thus far? 
Ja'Tarya: The most influential person during my time at Saint Martin's University is Kathleen McCain. She was my first-year seminar professor, and I also took her introduction to French class. I still try and find time to talk with her and update her on my life. She inspired me and helped my survive my first semester in college. She is a very kind person, and she always has an open door for me. She was the first professor I had, and I will never forget her. She taught me so many life lessons and her class brought me to some of my closest friends at school. She taught me that I can achieve anything and do anything as long as I am willing to believe in my goals.
Serena: Since I transferred to Saint Martin's University from the University of Oklahoma there have been many people who have helped, encouraged, and inspired me. Besides my friends, whom I've been lucky enough to meet at SMU I was also fortunate to have a couple of professors who have been the most influential to me. Professor Wu, my professor for two classes when I first started studying at Saint Martin's encouraged me to push myself out of my comfort zone and encouraged me to follow my dreams of law school. Professor Walker my professor and major advisor, not only helped me figure out classes and schedule but encouraged me to be more active in politics and to be more involved in our community and its political processes. Their influence and encouragement helped me find a place on campus and in the Lacey community. 
What do you hope to gain from the fellowship? 
Ja'Tarya: I hope to gain knowledge about law school from the Pre-law Diversity Fellowship Program. I am the first person in my family to attend and understand the ins and outs of law school.   
Serena: I hope to gain knowledge of the legal field, its interconnections, and diverse career opportunities as well as everything I need to know before taking the LSAT. 
What are your plans for after you graduate from Saint Martin's? 
Ja'Tarya: I plan on attending law school in the Fall of 2023 
Serena: After I graduate from Saint Martin's I hope to take the LSAT and attend whichever law school best fits my financial and academic needs. After that my goal is to pass the bar exam and then become a practicing attorney in either environmental or immigration law. 
Undergraduate
The Legal Studies Program is an interdisciplinary field of study composed of law courses from: the departments of criminal justice, political science, history and sociology; and the schools of business, education, and engineering.
Campus

Type of Instruction