Alumni
A Passion to Improve
A Passion to Improve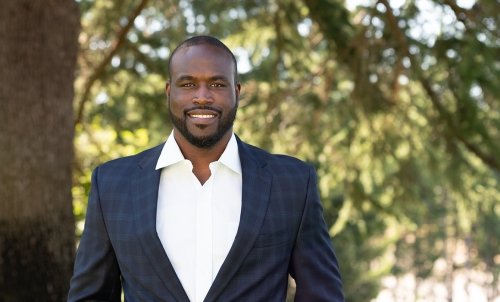 "Think about how your choices will help you grow as a person...think about how you can affect not just one life, but many lives."
Ponce Durr '09

Sociology and Cultural Anthropology
Class of 2009
Ponce Durr '09 was working as a program specialist at Coordinated Care when he found his professional passion—Lean production, a continuous improvement practice that seeks to eliminate waste from processes. He had encountered Lean concepts during his time working in children's administration within the Washington State Department of Social and Health Services (DSHS), but it didn't stick with him then. "At Coordinated Care I wanted to do something to push myself," he says. "That's when I got into Lean and realized this is what I want to do, this is what I love."
Ponce has been pushing himself since he was a student at Saint Martin's. He came to the University from Tacoma Community College. He majored in sociology and psychology and minored in social and cultural anthropology at Saint Martin's, and made an effort to pursue leadership opportunities on campus. Ponce became a resident assistant and joined the Pros Committee, which planned campus life events. He is also proud to have served as president of the Black Student Union for two years. Ponce says that he felt at home at Saint Martin's because the University was such a tight-knit community that allowed him to connect with great people. "I wanted to start focusing on my leadership [at Saint Martin's], on making sure I was taking advantage of every opportunity," he says. "And for that, it was important for me to get connected and develop solid relationships with other students, professors and staff."
It was through his interactions with Saint Martin's faculty and staff that Ponce pushed himself to learn more and develop new skills. Ponce credits Katya Shkurkin, Ph.D., professor of social work, David Price, Ph.D., professor of sociology and anthropology, Susan Kemp, former instructor of psychology, and Tim McClain, former assistant dean of students and director of housing and residence life, for encouraging his curiosity and enabling him to take on leadership roles. Ponce still remembers an assignment given to him by Shkurkin—she asked him to listen to speeches by Barack Obama and John McCain from the 2008 presidential campaign and analyze them for content and how the speeches engaged people. "That assignment took me from a high school mindset and made me think on a bigger scale," he says. "It allowed me to analytically listen to different conversations, different narratives, and to look at various perspectives and formulate my own opinion. It was a great experience for me. [Shkurkin] continued to push me collegiately, and our relationship is one that I'll always value." 
When Ponce graduated from Saint Martin's, he enrolled in the graduate social work program at the University of Washington (UW). There, he was part of the Child Welfare Training and Advancement Program (CWTAP), a state-funded partnership between the UW School of Social Work, the Alliance for Child Welfare Excellence and the Washington State Department of Children, Youth and Families (DCYF) that provides financial support to students who agree to commit to working for DCYF after they complete their studies. "CWTAP is a great program and it was a great experience for me," Ponce says. 
After he earned his master's degree in social work, Ponce started working in children's administration as a child protective services (CPS) investigator, following up on reports of child abuse and neglect. Ponce became a CPS supervisor after a few years as an investigator, but later decided that he wanted to help people in a different way. "I wanted to see how I could push myself to go further," he says.
While he was working within CPS, Ponce was asked by Kevin Quigley, then the Secretary for DSHS, to join a working group to improve processes and policies within DSHS. Ponce explains that this opportunity played a significant role in his development, and it was after participating in the working group that he started learning more about Lean production and continuous improvement.
Ponce then left CPS for Coordinated Care, where he worked primarily with Washingtonians who receive Medicaid and learned more about serving adult populations. After Coordinated Care, Ponce received a great opportunity at DSHS headquarters in Olympia within the Aging and Long-Term Support Administration, whose mission is to assist seniors and people living with disabilities by promoting choice, independence and safety. He worked within the nursing performance improvement unit and earned his Lean certification from Villanova University's Lean Six Sigma online certification program. "Working with them [nursing performance improvement], we were able to do a lot of Lean projects, and I could build my skillset," Ponce says. "I improved programs working for that team and utilized Lean concepts to achieve deliverables." 
Six months after joining ALTSA, Ponce was promoted to his current position as Lean continuous improvement manager within the Office of the Assistant Secretary for ALTSA, which is overseen by Bill Moss. Ponce works with his supervisor, Amy Besel, organizational development administrator, to ensure that Lean concepts are being followed throughout ALTSA; their team enhances projects, streamlines processes and implements suggestions to improve outcomes for the agency. 
"We've been working on the legislative process within ALTSA, how we receive a request for revising a bill," Ponce says. "What are those communication points that slow down the process, or times when something hasn't been approved? You're looking for key things that can be simplified to improve the process. With this information we identify the systemic concerns and utilize metrics and data to show current trends to provide a plan on how this can be improved for better results." 
As someone who's benefited from pushing himself to acquire new skills and take on different challenges, Ponce's advice to Saint Martin's students follows along similar lines. "Be open to new opportunities, be willing to step up as a leader," he says. "Think about how your choices will help you grow as a person. If you're looking to push yourself after you graduate, think about how you can affect not just one life, but many lives. Continue to challenge yourself in your personal life and professional life—and have fun doing it."
Undergraduate
The sociology and cultural anthropology program at Saint Martin's University provides students with unique opportunities to study contemporary American society and a wide range of cultures in the classroom, in surrounding communities, and in cooperation with campus study abroad programs around the world. The program demonstrates a strong focus on student-centered research.
Campus

Type of Instruction

Degree