Washington State Legislative Internship Program
Life as a Legislative Intern
Life as a Legislative Intern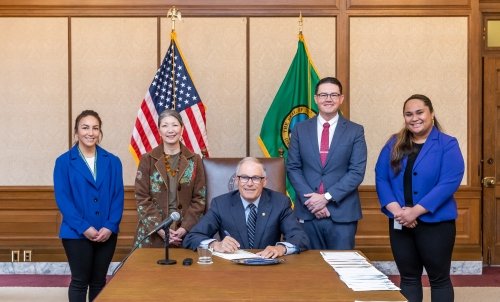 This internship confirmed that my true passion in life is working in government.
Cheyenne Yap '23
Hey Saints, meet Cheyenne Yap '23 and Zoe Krausmann '24. Cheyenne and Zoe are both participating in the Washington State Legislature Program this semester. The 2023 internship began on January 3 and ends on April 23. Read more about their experiences interning as non-partisan, full-time legislative staff.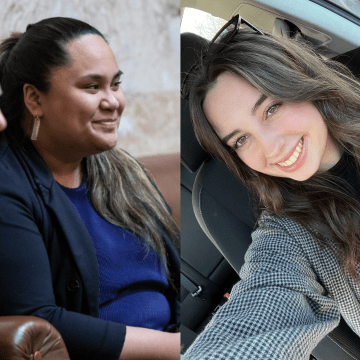 My name is Cheyenne Yap and I am a senior here at Saint Martin's University studying Political Science. Ever since I was a little girl, I wanted to be part of the change we see in the world today. Political Science Professor, Alexis Walker was the inspiration for sparking my interest in local, state, and national politics. I took a couple of political science classes with Professor Walker and wanted to see all the things I learned in her class, come to life. Being a legislative intern for four representatives (Representative Drew Hansen 23rd, Representative Tarra Simmons 23rd, Representative Sharon Tomiko Santos 37th, and Representative My-Linh Thai 41st) has been the highlight of my experience here at SMU. I always heard the quote: "Find a job that you love, and you will never have to work a day in your life." I did not believe this until this internship. This internship consists of doing policy research, constituent casework and correspondence, and being involved with the Civic Education program as well. To the students that are thinking of going into government, politics, and/or law, this is a life-changing internship that will prepare you for those jobs.
The Washington State Legislative Internship program has taught me so much and has given me many unique opportunities. This program is incredibly beneficial for networking and making connections for future job possibilities. I have been able to experience many amazing things, such as watching the President of Finland address the State's Legislature, which was the first time a foreign leader had done so in over 100 years. I have also been able to attend important events such as the Washington State of State Address, where all the Justices, Washington's state Governor, Speaker of the House, President of the Senate, members of the Legislature, tribal leaders, and government officials were invited to. In addition, I got hands-on experience in what goes on inside our state's Legislature by directly working in a Senator's office, helping with the daily tasks, and working on research projects directly tied to the Senator's sponsored bills. This internship program also provided the opportunity to meet influential individuals, such as State Supreme Court Justices, the Secretary of the State, and the Lieutenant Governor, and ask them questions. I recommend that every individual who can apply for this internship do so because they will not regret it. I am incredibly thankful for this incredible opportunity I have been given. 
Undergraduate
The Political Science program at Saint Martin's University seeks to understand the basis of power in society, how that power is organized and exercised, and its impact on people's lives. The department seeks to help its students engage in critical analysis of society and power structures.
Campus

Main (Lacey)
Saint Martin's-JBLM

Type of Instruction

Degree