Alumni
How can I keep from singing?
How can I keep from singing?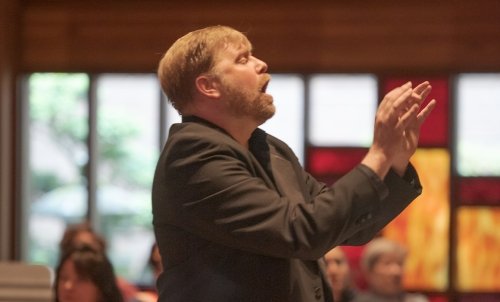 "Saint Martin's was extremely influential in my career. I can't imagine where I'd be if Darrell hadn't convinced me to start singing."
Jacob Kinderman '10

Music
Class of 2010
When Jacob Kinderman came to Saint Martin's in 2008, he had never sung a note in his life. Now, just seven years later, Kinderman is starring in Ash Lawn Opera productions of Madama Butterfly and My Fair Lady and booking concerts for the American Boychoir.
As a college freshman, Kinderman '10 had no intention of singing. He came to study guitar performance. But all that changed when he met Darrell Born, professor of music and choir director. Born persuaded Kinderman to take voice lessons. It was through Born's teaching and mentorship that Kinderman discovered his love—and immense talent—for vocal performance.
"He's a really special guy and a top-notch voice teacher," says Kinderman. As he started winning local voice competitions, he realized that he wanted to pursue a career in music. "Saint Martin's was extremely influential in my career. I loved the small school environment. It was a huge thing for me and allowed me to have one-on-one time with Darrell, Phil [Lawson, guitar teacher] and Art [Peterson, piano teacher]."
After graduation, Kinderman took his vocal career to the next level. He earned a Master of Music in Voice Performance and Pedagogy at Westminster Choir College in Lawrenceville, NJ, and starred in productions ranging from Papageno's Die Zauberflöte and Marcello's La Bohème to Meet Me in St. Louis and Carousel.
A pivotal moment in Kinderman's career was his role as Tobit in the opera Tobias and the Angel in 2015. During the rehearsals at Princeton University, he first encountered the American Boychoir. "There was a children's part [in the opera] and the American Boychoir was hired," he recalls. "I was spending many hours a day with the American Boychoir."
Based in Princeton, New Jersey, the American Boychoir is an internationally known choir that makes numerous tours across the United States and performs with such prominent orchestras as the Boston Symphony Orchestra and the New York Philharmonic. It has also sung at the presidential ball.
When a concert bookings agent position opened with American Boychoir, Kinderman decided to throw his hat in the ring. In February 2015, he was offered the position. "It was a funny coincidence," he muses.
That "funny coincidence" has led to a choral connection between Saint Martin's and the American Boychoir, bringing together two key elements of Kinderman's musical career. In the midst of planning the American Boychoir's West Coast tour, Kinderman wondered if Saint Martin's would be interested in hosting a concert. He gave his former voice teacher, Born, a call.
For many years, Born has brought several internationally-renowned musicians to campus through programs such as "Music@Noon." But the size of the American Boychoir marks a new level of success for the Saint Martin's music program. "It's exciting to bring such a high-quality group," says Born. "The boychoir is a world-class group of performers."
The American Boychoir will be participating in a series of workshops, lectures and performances, which are scheduled to be held on campus October 27 and 28. Through these venues, the choir will offer Saint Martin's students valuable insights into musical techniques and vocal performance. Special on-campus events include an Open Rehearsal & Workshop, a Musical Literacy Lecture and a Conducting Masterclass in which Saint Martin's Music students will have the opportunity to conduct the American Boychoir. In addition, the Saint Martin's Chorale will sing alongside the American Boychoir, first in an afternoon "Song Share Workshop" and then in an evening concert to be held October 28 at 7:30 p.m. at the Washington Center for the Performing Arts.
The name of the concert, "Choral Connection," is especially fitting. "I'm trying to create a choral connection between the Saint Martin's community and the choral community at large," says Born. "It is an opportunity to work together and learn together."
The same choral connection that brings the American Boychoir to the Lacey campus led Kinderman on his journey from voice lessons at Saint Martin's to singing on the opera stage and working with a world-renowned choir. "I can't imagine where I'd be if Darrell hadn't convinced me to start singing," he reflects with a laugh. "Meeting Darrell Born literally changed my life."
Undergraduate
Ready to turn your passion for singing or playing an instrument into a way to serve others through performance and education? Music may be the best major for you.
Campus

Type of Instruction

Degree