Hasley Villadelgado '20
Celebrate First-Gen: Hasley Villadelgado '20
Celebrate First-Gen: Hasley Villadelgado '20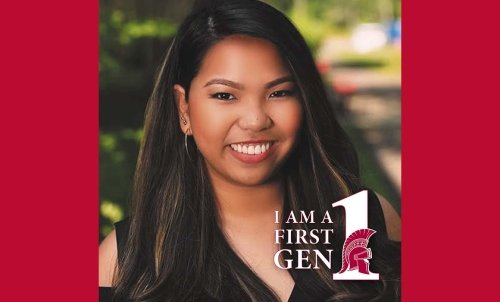 I was unfamiliar with the education system in the United States, but I was determined and persisted through the invisible barriers.
Hasley Villadelgado

Class of 2020
What does being a first-generation college graduate mean to you?
Being a first-generation college graduate is one of my exceptional achievements. My diploma meant so much because it brought joy and pride to my family. This accomplishment validates the fact that our place in society does not define how far we can go in life.
How did this shape your college experience?
My life before college has not always been the easiest, but the attitude, work ethic, adaptability, and perseverance I have learned throughout my life significantly contributed to my journey in college. College was not easy, but it was fun. I worked as a student library staff at O'Grady Library, Photographer at Belltower, a Resident Assistant at Housing and Residence Life, and a Medical Scribe at St. Peter's Emergency Room. On paper, it may appear that I had no life, but in fact this was the period of my life where I formed the strongest friendships. These lifelong friends were my support system through some of the hardest moments in and out of the classroom.
What were some of the challenges you faced?
The initial challenge I faced was the adjustment. Living alone, away from my family was difficult, but I managed. I matured and grew a lot as a person. The second was losing my sense of purpose. There were times when I was getting exhausted and burnt out. I was losing my focus, but I just had to keep finding the reason why I was there in the first place. I would slow down at times, but I never stopped. Lastly, motivation and inspiration. There were days I felt unmotivated. I was unsure about myself and my abilities, but I kept moving forward. Seemingly, in the blink of an eye, graduation was right around the corner.
What are some of your proudest achievements as a first-gen graduate?
One of my proudest achievements was being able to send myself to college. When I moved to the United States, I knew I wanted to pursue higher education. I was unfamiliar with the education system in the United States, but I was determined and persisted through the invisible barriers. I found my way to Saint Martin's University, and I eventually graduated within three years with a major and a minor degree debt free.
Why did you go to college?
I went to college because it was my dream, and education is valuable to me. I believe that having an opportunity to go to college is a privilege that not everyone is fortunate to have. It was a chance that no one should take for granted.
What resources were most helpful for you?
Two of the resources that were helpful for me were Admissions and Housing and Residence Life. Admissions guided me through the process and worked with me until I could manage. Housing and Residence Life have given me tremendous opportunities to showcase my abilities, both as a student and a leader.
How did this experience shape and inform the work you do now?
I'm currently working at a Medical Research Institute in Honolulu, Hawaii. More than the skills and abilities are the positive attitude I bring to work every day. I treat each day at work as another possibility for me to learn and grow in the field of research and medicine, so I can eventually make a bigger difference in my community.
Undergraduate
If you dream of being a world changer in the biotechnology, health care or environmental protection industries, biology may be the best major for you.
Campus

Type of Instruction

Degree