Uma Logenthiran, Ph.D.
Uma Logenthiran, Ph.D.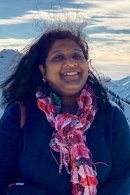 Adjunct Faculty, Chemistry
Ernsdorff Center 137
5000 Abbey Way SE
Lacey, WA 98516
Biography
Dr. Uma Logenthiran is a Visiting Assistant Professor at Saint Martin's University, Washington, USA. Born and raised in Sri Lanka, a small island in South Asia, she received her bachelor's degree in Chemistry from University of Jaffna, Sri Lanka. She received her MS and PhD degree in Material Chemistry from University of South Dakota, USA. Then, she worked as a post-doctoral research associate at the Department of Chemistry, National University of Singapore.
Teaching is an important part of her life because she always finds it rewarding to share her knowledge with students and motivate them to learn. She has gained extensive teaching experiences during her instructor, teaching assistant, visiting lecturer, adjunct lecturer, and post-doctoral positions from international universities. Her teaching, mentoring, and tutoring experiences, along with her research background provide an excellent opportunity to work under different educational standards.
Her primary research mainly focuses on the rational design of Biomimetic supramolecular containers with unique structure and function for energy, environmentally benign and biologically related applications. Nature provides elegant examples of supramolecular containers such as viruses and protein-like structures (e.g., ferritin), in which the highly organized structure of the biomolecules is the key to their sophisticated applications. Biomimetic supramolecular containers are sophisticated host molecules that feature unique nanoporous architectures and exhibit remarkably tune-able structures with molecular recognition capability. Her research work has been published in several peer-reviewed articles and conference papers.
In her spare time, she enjoys traveling with her family to explore new places, new people, and their cultures.