Steve O'Brien, J.D.
Steve O'Brien, J.D.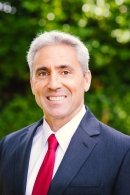 Director of Athletics
Hal & Inge Marcus Marcus Pavilion
5300 Pacific Avenue SE
Lacey, WA 98503
www.smusaints.com
Biography
Steve O'Brien joined the Saint Martin's University community as Director of Athletics in October 2022. With over 20 years of professional experience, including nearly 15 years in the intercollegiate athletic departments of four Division I institutions (Santa Clara University, University of California - Santa Barbara, United States Naval Academy, San Jose State University), he is well prepared to lead the Saints. Driven by a passion to lead and serve mission aligned intercollegiate athletic programs at mission driven institutions, O'Brien enters the role expressing confidence in the Saints' potential for growth and enhanced competitive success.

Prior to arriving at Saint Martin's University in October 2022, O'Brien served as the Senior Assistant Dean for External Relations for Santa Clara University's School of Law. In that capacity, he oversaw the law school's development, alumni relations and marketing & communications activities, and worked closely with the school's office of admissions, office of career management and the Dean's senior leadership team. During his tenure, the law school experienced unprecedented growth in the areas of constituent engagement, alumni participation and philanthropic giving. Additionally, the school's Kasner Estate Planning Symposium, a nationally recognized practitioners' conference, nearly doubled its net proceeds through attendance and sponsorship revenues.

Before returning to Santa Clara University, O'Brien served as the Deputy Director of Athletics at San Jose State University where he oversaw the day-to-day operations of the department and directly supervised external affairs, athletic development, NCAA compliance, academic support services, sports performance and several varsity sports. He was credited with playing an instrumental role in securing and facilitating the Mubadala Silicon Valley Classic, a professional women's tennis tournament, formerly associated with Stanford University for over 40 years. Other highlights of O'Brien's time with the Spartans involved the funding and creation of nearly $100m in new construction and facilities upgrades, the establishment of a relationship with The Golf Channel to televise the Western Intercollegiate men's golf tournament, the relocation a non-conference football game versus Army-West Point to Levi's Stadium, an NFL venue, extending partnerships with third party partners (The Aspire Group and Learfield), and the creation of enhanced annual giving and constituent loyalty & rewards' programs. As the department's top deputy, O'Brien served as a member of the President's Leadership Council, and worked closely with the campus' University Advancement, Administration & Finance and Information Technology Divisions, and the California State University's system's Office of the General Counsel and Government Affairs divisions.

Before returning to the West Coast, O'Brien spent six years with the Naval Academy Athletic Association at the United States Naval Academy, as the Senior Associate Athletics Director for Development. In that capacity, O'Brien worked closely with the Naval Academy Foundation and their Athletic & Scholarship Programs Division, developing, implementing, and ultimately leading a multi-faceted athletic development program. During his tenure, O'Brien introduced a new hybrid athletics annual fund/major gifts program, The Fund for Athletic Excellence, created a quasi-endowment to provide long-term unrestricted support for Navy Athletics, and established a strong foundation for the athletics portion of a comprehensive $450M+ institution-wide campaign. These well-coordinated efforts dramatically enhanced the nature and bearing of the department's development activities on its overall external affairs strategy. Additionally, they yielded a dramatic increase in major gift support (both sport-specific and unrestricted), nearly $80M in gifts, pledges and other revenues, including the two largest gifts in Naval Academy history. O'Brien played an integral role in the funding, creation and selling-out of Akerson Tower, the school's first premium seating section within Navy-Marine Corps Memorial Stadium. His role as a sport supervisor for the women's soccer program helped produce the program's first operating endowment and growth of their coaching staff. While at the Naval Academy, he also served on the NCAA's Committee on Sportsmanship & Ethical Conduct.

Prior to the Naval Academy, O'Brien spent nearly three years at the University of California, Santa Barbara (UCSB). As the Associate Athletic Director of Development, he was instrumental in the creation of their athletic department's first annual giving program, The Gaucho Fund, their major gifts initiative, the Living Scholar program and a multimillion dollar capital campaign, The Walk of Champions. O'Brien was part of the administrative team that led to UCSB hosting the 2010 Men's Soccer College Cup and facilitated the HER Time initiative that increased community support among women's varsity athletic programs. Outside of the department, O'Brien led a development group for the Big West Conference, that shared best practices among its members and sought to increase collaboration across the conference.

Before heading to UCSB, O'Brien spent three years leading the development efforts of the Bronco Bench Foundation for Santa Clara University, where he initially served as the department's Academic Support Manager. During his tenure, the department experienced a significant increase in student-athlete GPAs and contributions in support of student-athlete scholarships.

O'Brien began his professional career as a transactional finance and real estate attorney, working for the law firms of Latham & Watkins LLP and Greenberg Traurig LLP. He has maintained his license to practice law in the state of California where his service as a director on the San Jose Arena Authority board and a privately held corporation have furthered his understanding of corporate governance and organizational leadership.

O'Brien earned his Juris Doctorate from the University of Southern California Gould School of Law in 2001 where he was a member of the Southern California Law Review and graduated with Order of the Coif honors. He earned his bachelor's degree in History and Economics from Santa Clara University in 1998, where he graduated magna cum laude, winning the Hazel Award, the university's top prize for an economics major, and earning a varsity letter as a member of the men's cross-country team where he was named the program's Most Inspirational Athlete his senior year.

O'Brien resides in Lacey, WA, where he is married to Julianne (Visbal) O'Brien, and father of sons John and James.