Robert Hauhart, Ph.D., J.D.
Robert Hauhart, Ph.D., J.D.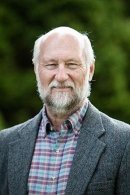 Professor, Criminal Justice
Professor, Sociology
Professor, Legal Studies
Old Main 315
5000 Abbey Way SE
Lacey, WA 98503
Areas of Expertise
Pre-Law
Social Justice
Criminal Justice
Education
B.S., Southern Illinois University; A.M., Washington University; J.D., Law, University of Baltimore School of Law; Ph.D., University of Virginia
Robert Hauhart, Ph.D., J.D., is a professor and former chair of the Department of Society and Social Justice (2010-2013) at Saint Martin's University. Serving on the faculty since 2006, Dr. Hauhart leads the undergraduate criminal justice and legal studies programs within the liberal arts curriculum. He also acts as pre-law advisor and offers courses within the sociology major. In 2008, he was named Monks of Saint Martin's Abbey Outstanding Faculty Member.
Originally from St. Louis, MO, he received is bachelor of science in education from Southern Illinois University. He went on to complete an artium magister (A.M.) in sociology at Washington University, a Ph.D. in sociology from the University of Virginia, and his J.D., Law from the University of Baltimore.
Dr. Hauhart spent twenty years working in the criminal justice system in Pennsylvania, New York, and the District of Columbia. After leaving the District of Columbia in 2001, he taught at the University of Maine, the University of New Mexico, Pacific Lutheran University, and finally, Saint Martin's. His interests include the intersection of law, economy, and society; prisons and prisoners' rights law; and non-legal initiatives for social justice.
His career has balanced between practicing law and serving as an educator. He is fiercely dedicated to social justice and raising the awareness of the communities in which he serves. Shortly after arriving at Saint Martin's he established the Robert A. Harvie Social Justice Lecture Series, bringing a vital asset to the state capital of Washington and the surrounding community.
In 2018-19 Dr. Hauhart was the recipient of a Fulbright Scholar Award to teach and study at the Postgraduate School and Research Centre of the Slovenian Academy of Sciences and Arts in Ljubljana.
Select publications
A prolific writer, Dr. Hauhart has published widely. His numerous articles and essays have appeared in a wide variety of scholarly publications. Dr. Hauhart writes and publishes regularly on the following topics:
Criminological theory
Social inequality
The American dream
Capstone pedagogy
Law
Literary analysis and criticism
Current Projects:
Dr. Hauhart is presently conducting an interview study using student investigators in the South Sound area to examine area residents' life choices, education, career trajectories, and intergenerational social mobility.
The list below represents a small portion of Dr. Hauhart's work. For a complete list, please review Dr. Robert C. Hauhart: Writings.
Books
Food and the American Dream in American Literature (University of Tennessee Press, under contract, forthcoming 2024). Co-edited (with Jeff Birkenstein) collection of papers on food and the American dream in American writing and culture.
Significant Food in American Literature (University of Georgia Press, forthcoming 2023). Co-edited volume of essays on American literature with Jeff Birkenstein. Sixteen essays by contributors from universities in France, Italy, Canada, Malaysia, and the United States.
Handbook on the American Dream (Routledge 2021-22). Co-edited , two volumes (with Mitja Sardoc, Educational Research Institute, Ljubljana, Slovenia) composed of thirty-five essays on the global status of the American Dream. Volume I (2021); Volume II (2022). Read more here.
Connections and Influences in the Russian and American Short Story. Co-edited volume (with Jeff Birkenstein) of essays regarding the reciprocal effects and shared features in Russian and American short stories. (Lexington Books 2021). Read more here.
The Lonely Quest: Constructing the Self in 21st Century American Life (Routledge 2019). Monograph examining lifestyle choice, self and society in the 21st century United States. Read more here.
European Writers in Exile (2018). Edited volume (with Jeff Birkenstein) containing 15 original essays on major European writers who experienced exile and the impact of exile on their work. Lanham, MD: Lexington Books. Read more here.
Social Justice in American Literature (2017) (with Jeff Birkenstein). Edited volume for Salem Press/Grey House examining American authors whose works embody significant social justice themes.  Read more here.
Seeking the American Dream: A Sociological Inquiry (2016). Monograph analyzing the American dream myth based on historic examination of historical sources and American sociology/criminology. New York: Palgrave Macmillan. Read more here.
American Writers in Exile (with Jeff Birkenstein) (2015). Edited volume in the Critical Insights series for Salem Press/Grey House Publishing, Amenia, New York. Read more here.
"Designing and Teaching the Undergraduate Capstone Course" with Jon E. Grahe. Jossey-Bass/Wiley. January 2015. ISBN: 978-1-118-76187-8
Other writings
"An Empirical and Jurisprudential Study of the Federal Courts' Application of the Good Faith Exception to the Exclusionary Rule". Criminal Law Bulletin,48(2): 316-46. (January, 2012) (co-author: Courtney Carter Choi).
"Exporting the American Dream: Global Implications". International Journal of the Humanities, Vol. 9(2): 1-12 (July, 2011).
"Globals' and the American Dream: A Study of Student Aspirations in an American Studies Course". Perspectives on Global Development and Technology, Vol. 12(1-2):355-374 (2013) (co-authored with Jeff Birkenstein).
"A National Survey of American Higher Education Capstone Practices in Sociology and Psychology". Teaching Sociology, 40(3):227-241 (July, 2012) (with Jon E. Grahe).
"Toward a Sociology of Criminological Theory". The American Sociologist, 43(2):151-173 (June 2012).
"War Injuries and Advances in Body Part Replacement in the Context of Class Society". International Journal of Critical Cultural Studies, Vol. 10(1):23-34 (2013).
Accomplishments
Developed and directed the Prisoners' Rights Program for the District of Columbia Public Defender Service (1988-2001).
Argued many successful prisoner civil rights cases in New York State, Federal, and District of Columbia courts.
Recognized expert on designing and teaching senior seminar courses.
Recipient of the 2008 Outstanding Faculty Award, Saint Martin's University.
Professional associations