Robert Bode, Ph.D.
Robert Bode, Ph.D.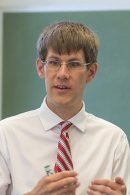 Associate Professor, biology
Ernsdorff Center 135
5000 Abbey Way SE
Lacey, WA 98503
"Professors cannot teach what students will not learn, and students will not learn what they do not enjoy. Thus, it is my goal to teach you to enjoy biology, then you will learn it."
Areas of Expertise
Evolution
Botany
Terrestrial ecology
Education
B.S., Hope College; Ph.D., Cornell University
My family moved to the Pacific Northwest from New York in 1997. In complete disregard of the natural beauty around me, I headed back east for my education. I got my B.S. in biology from Hope College in Holland, Michigan, then traveled to Ithaca, New York to get a Ph.D. at Cornell University. I then took a job as a teaching post-doc at Canisius College in Buffalo, New York. I finished two years of teaching and research and took a one-year sabbatical replacement position at Illinois Wesleyan University in Bloomington. Having thoroughly explored the east and mid-west, I then, in 2014, accepted a position here at Saint Martin's, once again surrounded by natural beauty and biology.
Select publications:
Bode, R.F. and Maciejewski, A.* (2014) Herbivore Biodiversity Varies with Patch Size in an Urban Archipelago. International Journal of Insect Science, 2014:6
Bode, R.F., and Gilbert, A.* (2016) Seed Predators, not Herbivores, exert Natural Selection on Solidago spp. in an Urban Archipelago. Environmental Entomology. 45(1): 150-154
Bode, R.F. and Tong, R.* (2017) Pollinators Exert Positive Selection on Flower Size on Urban, but not Rural Scotch broom (Cytisus scoparius L. Link) Journal of Plant Ecology 11(3): 493-501
Porter, R.S.* and Bode, R.F. (2017) Antiviral Properties of Black Elder (Sambucus nigra). Phytotherapy Research
Bode, R.F., Grove, S. and Krueger, N.* Limits to Biocontrol: the effects of urbanization and elevation on Bruchidius villosus and Exapion fuscirostre; two biological control agents of Cytisus scoparius. Biological Invasions 21(3): 1021-1031
Bode, R.F., Linhart, R.D. and Dufresne, C. Variation in the Pollinator Community Visiting Invasive Cytisus scoparius L. Link (Scotch broom) along an Elevation Gradient. Submitted to Ecological Entomology 5/21/19
Accomplishments:
I am currently raising two healthy, energetic boys. One is five years old, the other is two-and-a-half. Besides that, various teaching and cooking awards and race medals pale in comparison.
Areas of interest:
Hiking (for science and pleasure), fishing, cooking, reading, running, and spending time with my children.