Pius Igharo, Ph.D.
Pius Igharo, Ph.D.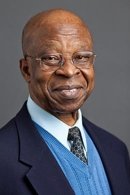 Associate Professor Emeritus, Civil Engineering
Cebula Hall 203E
5000 Abbey Way SE
Lacey, WA 98503
Area of Expertise
Transportation Systems Management and Design
Education
B.S., Swarthmore College; M.S., Columbia University; Ph.D., University of Pittsburgh
Dr. Igharo has more than 30 years experience in industry, consulting and academia, specializing in transportation systems management and design. Dr. Igharo has been teaching at Saint Martin's University since 1996.