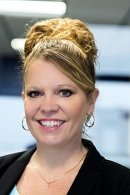 Senior Director for Advancement Services & Special Events
Old Main 214
5000 Abbey Way SE
Lacey, WA 98503
Bobby Hanna started at Saint Martin's University in September of 2019 and serves as the Senior Director of Advancement Services and Special Events at Saint Martin's University. Where she oversees and manages Gala operations, budget, auction procurements, and serves as an acting member on the Gala Executive Committee. She is responsible for the development and leadership of the strategic vision for the Advancement Services team to support the acquisition of increased private support to the University. The Advancement Services team plays a key role in fundraising by building data, reporting, and tracking infrastructure and by supporting prospect pipeline development.  
Bobby graduated from Saint Martin's University in 2001 with a Bachelor of Science degree in Biology.  Over the course of the last 20 years Bobby has worked in several disciplines of science which include chemical, biological and data science. She has a history of working in the non-profit organization management industry. She is skilled in organizational policy, procedure and system management, CRM implementation, conference and special event planning, procurement, market research and team building. 
Bobby loves spending time outdoors and is passionate about her family. She's fulfilled by helping others achieve and succeed in higher education.