A Top-Tier/ Tier 1 homeschool-friendly university where students thrive
Why Saint Martin's?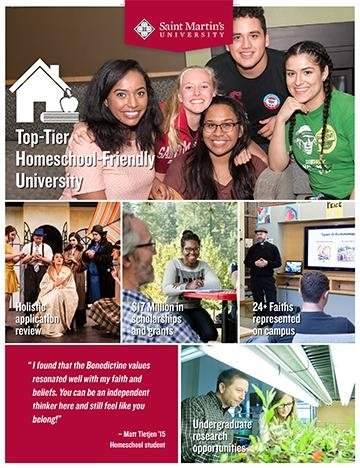 Top-Tier Homeschool-Friendly University
Saint Martin's is one of the nation's top-tier homeschool-friendly colleges. We welcome and recognize the dedication homeschoolers and their families have toward education. You will feel right at home at Saint Martin's: our inclusive community is comprised of learners who are thoughtful, independent thinkers interested in making a positive difference in the world. We want to help make your transition to college a smooth one, which is why we have the same holistic application review for homeschool students as with other high school students. Homeschool students are also eligible for our academic merit scholarships.
Classic Learning Test

Saint Martin's is proud to accept the CLT!
2022 CLT Test Dates: TBD