Faculty
Unsinkable Saints
Unsinkable Saints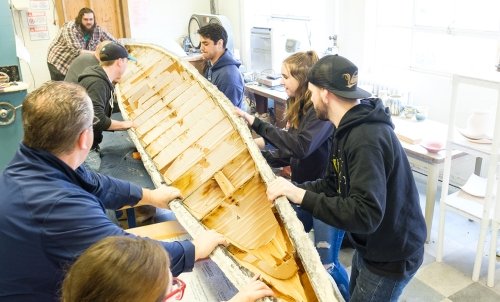 "They may not remember a lot of the assignments they did in class, but 20 years from now, they'll remember the concrete canoe competition and the other students they worked with."
John Sladek

Retired Professor of Engineering
A concrete canoe may not sound like a badge of honor — that is, unless you are an engineering student who sees the canoe as an opportunity for ingenuity.
Every spring, college teams across the U.S. participate in one of 18 conference competitions, all vying for a coveted spot in the American Society of Civil Engineers' National Concrete Canoe Competition. To qualify, teams must place first in their regional competition. At the 2013 Pacific Northwest conference competition, held at Oregon State University, Saint Martin's student team made a remarkable showing, placing second overall.
In the racing portion of the competition, Saint Martin's engineers claimed victory over the eventual first-place winner, the University of Washington.
Why should student engineers build a concrete canoe? John Sladek, retired professor of engineering and the team's faculty advisor, says the competition is an opportunity for students to apply engineering principles they learn in the classroom, plus exercise team and project management skills.
"This project is totally student-directed, so they lead themselves," explains Sladek. "The work is intensive, and comes on top of the other requirements of spring semester, yet most of the team put in between 10 and 20 hours on the project each week, and most of spring break."
There is far more to the annual competition than building a concrete canoe that can float. Student teams are judged on: the engineering design and construction principles they used; a technical design report detailing the planning, development, testing and construction of their canoe; a formal business presentation highlighting the canoe's design, construction, racing ability and other innovative features; and performance of the canoe and the paddlers in five different race events.
The 2013 Saint Martin's team included Christy Castanares, Tyler Davis, Alyssa Edwards, Mieko Grant, Jordan Jones, Chet Kocan, Daniel Lillie, Chris Luzik, Kyle Mauren, J.G. McCall, Eric Norton, Anne Petrich, Veronica Raub, Tim Sole and Morgan Watkins.
"These students built something more than a canoe," adds Sladek. "They may not remember a lot of the assignments they did in class, but 20 years from now, they'll remember the concrete canoe competition and the other students they worked with."
Undergraduate
Ready to tackle real-world issues, help solve problems in your community and examine what it means to be an ethical engineer in the 21st century? Civil engineering may be the right major for you.
Campus

Type of Instruction

Degree